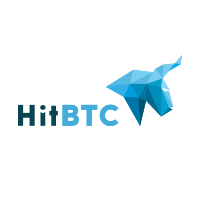 Description
Update
HitBTC is a global trading platform with multi-currency support operating since 2013. Besides trading cryptocurrencies, tokens and ICOs, HitBTC provides proper markets for fiat trading, including USD and EUR trading pairs. HitBTC is a place where both newcomers and trading professionals will be able to trade with ease. It was built on top of modern technologies to provide fast, secure and reliable service. Customers will appreciate fast order execution, convenient ways to add deposit and withdraw and competitive client service. Newcomers will like intuitive user-friendly interface and easy-to-start platform. The key focus is client funds safety. Daily backups of everything, distributed all over the world servers, 2-step authentication based on your mobile device and much more for your security. For professional traders there are quite a number of features: - High liquidity - Core matching engine - No limits for funding/withdrawal of cryptocurrency - Low fees - High-speed software - Large selection of tools - High level of security - The most professional API (4 advanced types of protocols)
Reviews
Vector

-

December 4, 2019

Very likely you will never encounter any problems. This is one of the best exchanges in my opinion.
---
trader

-

December 4, 2019

Normal exchange, why write that the platform is bad? I change twice a month without any significant problems and complaints. Sometimes there are difficulties with the time of the transaction, but these difficulties are rare.
---
Tompson

-

December 4, 2019

The usual exchange, not good and not bad. I like the support service and a good bitcoin course, mainly because of this and I'm on this exchange.
---
NOS

-

December 4, 2019

Cool exchange
---
Slark

-

December 4, 2019

Deposited my payment to the wrong address. Support helped me to sort this out quickly. Thanks, team!
---
Ranger

-

December 4, 2019

I recommend this exchange to everyone. They provide a good service along with a great customer support.
---
Kravic

-

December 4, 2019

For some reason I like this exchange more than others. I don't even know why, maybe I just got used to it. It's a reliable one
---
Nigel

-

December 4, 2019

My English is not very good, but I want to write about my first impressions about Hitbtc. I like everything! Even support can communicate with you on several languages! I find this very convenient!!
---
Dark

-

December 4, 2019

Well, it's just another average exchange. Got it's pluses and it's minuses. Like low fees and enormous quantity of currency pairs, for example.
---
Mango

-

December 4, 2019

Wish all the exchange were as simple in use as this one... Good trading to you all!
---
Kitana

-

December 4, 2019

Best exchange
---
Nick

-

December 4, 2019

I can not say any bad words about this exchange. I have been cooperating with them for three months, an adequate course, the operations are pretty fast.
---
Elliot

-

December 4, 2019

On this platform, I recently. Just a few times I used her services. Always everything was smooth and clear. Only positive emotions.
---
Demon

-

December 4, 2019

Probably one of the best platforms for executing transactions on the exchange of crypto currency. This exchange I use not the first time, there are no complaints, the funds always arrive on time, in the volume in which they are indicated.
---
Patrick

-

December 4, 2019

I see a good service with all the necessary features available. There are a few things to fix but i already feel fine about this exchange
---
Alien

-

December 4, 2019

In my human opinion the exchange platform has a strong FAQ page. Even if you need a helping hand in particular cases, you can always contact their support team via a ticket system. Additionally, they have active chat box in multiple languages for instant support.
---
Kevin

-

December 4, 2019

By far, one of the easiest and most user friendly exchanges I've ever encountered. They provide low fees for market makers and the variety of coins. The withdrawal fees are competitive and similar to other exchange platforms.
---
Silencer

-

December 4, 2019

The exchange offers one of the most intuitive and feature rich platforms I've ever used. You could access to market orders, limit orders, stop orders, and stop limit orders to ensure that you can maximize profitability while minimizing downside.
---
Max

-

December 4, 2019

i don't know! I've heard that hitbtc has a good security and their devs always work on improving it. That's what people say.
---
Legend

-

December 4, 2019

I registered on the exchange a long time ago. On the 29th of August I made a deposit of $ 1000, then I tradedd dollars for XRP. The withdrawal of funds is hanging ... A day later I wrote in support. Today the appeal was processed, the coins came to the specified address. Something like this.
Submit a Review