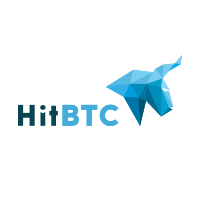 Description
Update
HitBTC is a global trading platform with multi-currency support operating since 2013. Besides trading cryptocurrencies, tokens and ICOs, HitBTC provides proper markets for fiat trading, including USD and EUR trading pairs. HitBTC is a place where both newcomers and trading professionals will be able to trade with ease. It was built on top of modern technologies to provide fast, secure and reliable service. Customers will appreciate fast order execution, convenient ways to add deposit and withdraw and competitive client service. Newcomers will like intuitive user-friendly interface and easy-to-start platform. The key focus is client funds safety. Daily backups of everything, distributed all over the world servers, 2-step authentication based on your mobile device and much more for your security. For professional traders there are quite a number of features: - High liquidity - Core matching engine - No limits for funding/withdrawal of cryptocurrency - Low fees - High-speed software - Large selection of tools - High level of security - The most professional API (4 advanced types of protocols)
Reviews
Sam

-

May 8, 2018

Hitbtc can be accepted as a real SCAM platform. It does not let you convert all of your coins from one to another. It does not let you specify decimal after 0.x so always some of your coins became useless on this shit platform. For example I was trying to spend 56 USDT to buy LTC but system convert 48 USDT for 0.3 ltc and left 8 USDT out there useless. And also it take so many time to able to withdraw coins. Just stay away from them.
---
ok

-

May 8, 2018

A total scammer. The site is always down when some coins are moving up, and people withdrawal coin. Today BCN launches on Binance and mooning, 100x difference price between HitBTC and Binance, so people try to move BCN to Binance, and all of sudden they cancel all withdrawal transaction and mask it under "maintenance" term. Very clearly sign of purposely holding customer's coin to trade at other platforms for their profit.
---
Impossible to login

-

May 8, 2018

The portal is intermittent and much of the time impossible to login to. APIs are ok but most users trades manually so user experience is nowhere near acceptable.
---
Kezios

-

May 7, 2018

Of course I understand that Hitbtc has many haters, but where else have you seen such fees?? In addition, support answers quickly, I was convinced in this several times.
---
rockstar

-

May 6, 2018

There are many disadvantages, but there are more advantages, so you can use it
---
Garrix Fray

-

May 6, 2018

Hello everybody! I saw a lot of feedback that money is lost and that the support doesn't give anything to return them. 2 days ago I tried it myself, I tried to withdraw 0.05 BTC from Hitbtc, the money for the wallet came a little later than I expected, but everything went well.
---
JK

-

May 4, 2018

I bought ICX in their offered ICO sale, and they don't deliver. Customer support never responds. They hide away under post box addresses in Hong Kong, and now Chile.Similar things happened to other tokens. At one point they delist, and in effect it was never tradeble. I am willing to pay 0.5BTC for current address data of their beneficial owners and/or business operators. Leave an email and I contact you.
---
eddie

-

May 3, 2018

I can't say this is the best exchange, but I also can't say this is the worst one. At least because for 5 months I've never had any problems with hitbtc
---
Caleb

-

May 2, 2018

I read a lot in the comments that often there are some problems with the withdrawal of coins. But I needed to use HitBTC because of several coins that were there. I tried it, and there were no failures. Moreover, I actively use the exchange for 2 weeks and everything is fine so far!
---
The Netherlands

-

April 30, 2018

To all crypto enthusiasts in the world! Do not use this exchange. BTC deposits never arrives. Customer Support doesn't respond to tickets. Time to shutdown their businesses and start juidicial procedures.
---
Savage

-

April 30, 2018

They wanted 71 PLR to withdraw my Pillar and at the time it was $0.60. That's ridiculous and proof to me that they don't really have all of the coins. I ended up going back into ETH to withdraw all of my funds.
---
My thoughts

-

April 28, 2018

I'd like to read some adequate thoughts here. All this criticism looks a bit inaccurate. Hitbtc is in fact a very reliable exchange. But there are things I do not like. Logout after inactivity is quite annoying.
---
They suck dick

-

April 26, 2018

They actually suck dick.
---
Sting

-

April 26, 2018

One of the oldest crypto exchanges with a strong reputation! Good interface and moderate fees.
---
Jöel

-

April 26, 2018

I put the security system of 2FA, everything go until the day I stole the phone. A real epoper to get to unlock the dispossitif. A very disappointing support, I still have not repossé after a lot of message left in the support section. I must go to the police to lodge a complaint about my Cryptomoney assets. Very bad support, HitBTC a real shit there is better like exchange
---
HitBtc trader

-

April 26, 2018

Shame on You HITBTC, stealers and cheaters, who use new deposits to pay others, close the tickets that are not unsolved. If you're planing to open a new account you're better of with bittrex or gemini. There is a 99% chance you won't ever see your money again with Hitbtc.
---
Antone Mendes

-

April 26, 2018

Use it for a long time and can recommend it to others.
---
freddy

-

April 24, 2018

Trade here if you want to save your money on transactions!!
---
Hmldit

-

April 24, 2018

This place is solid, high withdraw fees on shit coins but if you didn't read that going in it's your own fault. Notice most of the bad reviews are from people that can't spell or make sentences. Also trading has no fees if you do it right and it pays dividends this more than makes up for high transfer fees, good luck finding an exchange with lots of alt coins that does not have withdraw fees. Just use ltc to transfer value out it's flat fee for less than $.50 and they always give notice before they delist shitcoins people are just stupid and don't read.
---
Stay away.

-

April 22, 2018

tl;dr: Stay away, unless you're fine with excessive withdrawal fees. I typically trade on Bittrex, GDAX, and Binance. However, to try a swing on a coin that wasn't available on those three, I joined HitBTC. Everything went fine during sign up and transferring ETH to the exchange. I then got acquainted with the okay trading UI. My TA paid off, the coin did well, I locked in profits and exited my position, bit by bit. Today, I went to withdraw the ETH I had accumulated and, to my horror, found that I'd be charged a flat fee to withdraw it. So that you may make your own financial decision and, for the record, here are the withdrawal fees for popular coins (and their current market rates in USD) from HitBTC, as of today, 4/21/18: BTC: 0.001 BTC ($8.84) ETH: 0.00958 ETH ($5.72) ETC: 0.002 ETC ($0.036) USDT: 100 USDT STRAT: 0.01 STRAT ($0.0565) LTC: 0.003 LTC ($0.4367) DASH: 0.03 DASH ($13.24) XMR: 0.09 XMR ($22.62) BCN: 0.1 BCN ($0.0004799) STEEM: 0.01 STEEM ($0.0317)
Submit a Review