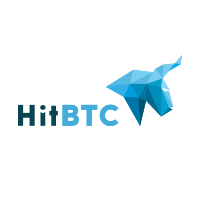 Description
Update
HitBTC is a global trading platform with multi-currency support operating since 2013. Besides trading cryptocurrencies, tokens and ICOs, HitBTC provides proper markets for fiat trading, including USD and EUR trading pairs. HitBTC is a place where both newcomers and trading professionals will be able to trade with ease. It was built on top of modern technologies to provide fast, secure and reliable service. Customers will appreciate fast order execution, convenient ways to add deposit and withdraw and competitive client service. Newcomers will like intuitive user-friendly interface and easy-to-start platform. The key focus is client funds safety. Daily backups of everything, distributed all over the world servers, 2-step authentication based on your mobile device and much more for your security. For professional traders there are quite a number of features: - High liquidity - Core matching engine - No limits for funding/withdrawal of cryptocurrency - Low fees - High-speed software - Large selection of tools - High level of security - The most professional API (4 advanced types of protocols)
Reviews
mark

-

March 22, 2018

tursted
---
iorik

-

March 22, 2018

Hitbtc seems to be good exchange by the way it has added a new token IOTA, if you still don't know then come to the exchange and watch the amount of tradings , If we see the movment then we can buy it.
---
Crypto Nooob

-

March 20, 2018

Extremely expensive to withdraw
---
AussieRick

-

March 19, 2018

Not a bad exchange for trading as trading goes but no different to many other out there. The fees for withdrawals are stupidly over priced and not worth trading on here for that reason. as an example DASH .03 to withdraw on Hitbtc, do the same on Kucoin for .002 DASH. Their withdraw times take a long time also for your funds to be transfered out. Kucoin's trading fee is the same and it doesnt cost you to deposit on Kucoin either Plenty of other exchanges are the same and a lot cheaper than Hitbtc. If you dont plan on withdrawing regulary then it could be a good exchange I wont be bothering to use them again anytime soon
---
Brandan

-

March 19, 2018

Pretty good crypto-exchange. I've been using this service for about a year now and there were no problems. I recommend!
---
bingo

-

March 19, 2018

That's alright with trading operations and functionality on HITBTC. The interface is simple, easy to understand it. There are many tools for trading not limited with the top currencies. A symbolic fee for deposit/withdrawal.
---
Brain

-

March 19, 2018

Very interesting story related to this site. I've been using it for a very long time. I lost access to my account and the support service helped me very quickly with this question. After that, I always work here and I really like the functionality of this site and all of its tools. Guys why do you spoil the reputation of the site, if you are just bad traders;)
---
AKM

-

March 16, 2018

Never trade with HitBtc. They cheat with you and some day they will must take your money. just check there forum. I personally lost 1 nos ETH 4 days back. It was never been credited into my account. Thanks
---
idotrade

-

March 15, 2018

They did have some issues with their support during the latest boom. But now it seems that they've got their s**t together and started actually supporting traders. Other than that, I've never had any issues with them.
---
D. Williams

-

March 15, 2018

Horrible exchange! High fees, unable to withdraw because of insufficient funds, when the funds are there. Stay away.
---
JH

-

March 13, 2018

terrible exchange!
---
CryptoTrader

-

March 12, 2018

There are 2 simple reasons I work at the HITBTC exchange: anonymity of trade and loyal conditions.
---
CoinBoss

-

March 10, 2018

It`s strange to read so many bad reviews about my preferable exchange. I really love low trading fees on Hitbtc.
---
rocky

-

March 9, 2018

Tether withdrawal , technical issue holding more than 1 month...what a drama..lol.
---
Ripped off

-

March 6, 2018

Deposited 50 SETH tokens, thought I might do some trading and then I noticed that the flat fee is 75 SETH. Funny. Trust me, better to NOT buy anything on this exchange, maybe with some luck they will die out if people stop putting money in this scam site.
---
Petr

-

March 5, 2018

Rip off, stay away.
---
Lol

-

March 4, 2018

Just looked at the review below. "I received a email from "Paola Balzano" Sounds like a clown name. Sure you didn't email Ringling Bros?
---
HitBTC are theives

-

March 2, 2018

The name says it all. My 2FA needed resetting. I contacted the so called "service centre" and Their bots answer the call and never a person. I received a ticket from the bots and replied with info requested and then nothing over and over again. I contacted their so called "PR" dept and was thanked for "reaching out" and was redirected back to the "service centre" and told to list out every ticket received which I did. After a few days I received a email from "Paola Balzano" from HitBTC "support" and told that I should have replied the last Ticket and that that ticket should be cancelled and I would have to create a new Ticket. It became very clear to me that HitBTC had no intention of allowing me to get my Crypto back.
---
Chaus

-

March 1, 2018

Hitbtc is the most terrible excahnge out there. SCAM SCAM SCAM!!!!!!!! I had some problems with login. Opened an amount of tickets. Never got a response. THEY STEAL YOUR COINS!!!!!!!
---
PringleTrader

-

February 28, 2018

Only reason they get one star is I cannot go lower. SCAM SCAM SCAM SCAM is case you didn't catch that...SCAM! 2A login trouble out of the blue and cannot get a dang bit of help. Called there support line twice and was finally told they cannot help me that I am simply out of luck! They said I might have a chance with email support but I cannot get them to email me back at all. Everyone, make sure we get this out all over the web...Please do not give them the satisfaction of gaining any new customers!
Submit a Review