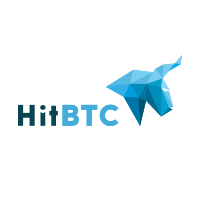 Description
Update
HitBTC is a global trading platform with multi-currency support operating since 2013. Besides trading cryptocurrencies, tokens and ICOs, HitBTC provides proper markets for fiat trading, including USD and EUR trading pairs. HitBTC is a place where both newcomers and trading professionals will be able to trade with ease. It was built on top of modern technologies to provide fast, secure and reliable service. Customers will appreciate fast order execution, convenient ways to add deposit and withdraw and competitive client service. Newcomers will like intuitive user-friendly interface and easy-to-start platform. The key focus is client funds safety. Daily backups of everything, distributed all over the world servers, 2-step authentication based on your mobile device and much more for your security. For professional traders there are quite a number of features: - High liquidity - Core matching engine - No limits for funding/withdrawal of cryptocurrency - Low fees - High-speed software - Large selection of tools - High level of security - The most professional API (4 advanced types of protocols)
Reviews
Armin

-

November 12, 2018

I heard the same from insider, they will return the stolen money and probably compensate traders.
---
Jason

-

November 12, 2018

I was told that they are facing tough time with Honk Kong Police and things are getting serious, the police have received tons of complains and this won't take long.
---
Noaman

-

November 12, 2018

I'll sue them and ask for compensation
---
Jeff

-

November 12, 2018

I reported them too, took 5 minutes and received confirmation and a reference for the case , sent snap shots showing the balance hitbtc is holding.
---
Heba

-

November 12, 2018

Reported
---
Armin

-

November 12, 2018

Alternatively you may contact: Hong Kong Police Mr CHU of Crime Investigation Team 6 Tsuen Wan Police Station DPC 58396 Mr CHU DIT 6 TWDIST email: twdist-dit-6-office@police.gov.hk Tel: +852 3661 2418 Fax: +852 2405 5407
---
armin

-

November 12, 2018

Those who had their money stolen/blocked by Hitbtc, make sure that you file claim to Hong Kong cyber crime police, the process is straight forward, google CSTCB and fill the form, indicate the stolen amount and make sure to write company name "Hit Solution Limited, CR No.: 2510720. Registered / Principal Office: Unit 19, 7/F., One Midtown No.11 Hoi Shing Road, Tsuen Wan, New Territories, Hong Kong" this is being taken seriously by the authorities where the company is registered; Feed back from traders is extremely positive, it is important to file a complaint to reserve your right to claim refund and compensation before the police shut them down.
---
Chad

-

November 12, 2018

Hitbtc is untrustworthy! If you ever had to send your personal details, credit card and bank statements to Hitbtc, immediately contact one of the three credit bureaus (Equifax, TransUnion and Experian) and put a 90 day fraud alert on your credit profile, which will require additional verification for new accounts or account changes to be made in your name. But to protect against check fraud which is very common nowadays.
---
Roger

-

November 12, 2018

Avoid this scam exchange, their records are bad, the steal traders money and their identity.
---
Bogdán

-

November 12, 2018

Nothing special, just checked market overview tab at their trading platform and only few instruments trades all others are dead, looks like grave yard.
---
Hero

-

November 12, 2018

It is obvious that Hitbtc is exiting scam, if you are one of those few lucky traders that hasn't been locked out yet withdraw your coins as soon as you can, it is advisable to make partial withdrawals once or twice a day to avoid locking you out, this will cost additional fees but it is better than loosing all your money.
---
Amjad

-

November 12, 2018

I reported Hitbtc to Hong Kong cyber crime police, took only few minutes, I was able to upload snapshots of my previous balance before it was locked and hacked by Hitbtc, the police will take them down soon.
---
Jason

-

November 12, 2018

Watch out traders, KYC being used by Shitbtc as a fraudulent tactic, If the exchange really cared about the identity of its customers other than stealing money and personal information, the process would have been completed when the user signed up/deposited money/at any point before he asked for a withdrawal, avoid this shit exchange.
---
Mac

-

November 12, 2018

HitBTC has a major problem giving people their money back, I'd stay away.
---
Moris

-

November 12, 2018

Still don't believe its a scam exchange? Legal name in the UK: Hit Techs limited, registered capital asset (one GBP=1.31 US$) Legal name in Hong Kong: Hit solution ltd, registered capital asset (10000 HKD=1275 US $) How it is not scam?
---
Simon

-

November 12, 2018

The overwhelmingly negative sentiment could perhaps explain why Hitbtc's daily trading volume has fallen way down to almost zero compared to other exchanges.
---
Ramesh

-

November 12, 2018

There are no issues, its only Hitbtc stealing traders funds
---
Majid

-

November 12, 2018

Hitbtc staff writing fake reviews again....it would have been more beneficiary for you and your exchange to spend time fixing traders issues.
---
David

-

November 12, 2018

HitBTC is dying, trading volumes of most of the alt coins is down to zero, don't trust people reviews, check your self! I see no point to take any risk and transfer coins, take my advise and avoid, all other exchanges are better than this shady one.
---
Georges

-

November 12, 2018

I was a bit confused, so I decided to read traders comments on reddit and github, even facebook and twitter, found almost every trader complaining about not being able to withdraw funds. took a decision to stay away until things become more clear.
Submit a Review