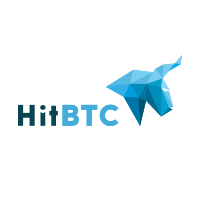 Description
Update
HitBTC is a global trading platform with multi-currency support operating since 2013. Besides trading cryptocurrencies, tokens and ICOs, HitBTC provides proper markets for fiat trading, including USD and EUR trading pairs. HitBTC is a place where both newcomers and trading professionals will be able to trade with ease. It was built on top of modern technologies to provide fast, secure and reliable service. Customers will appreciate fast order execution, convenient ways to add deposit and withdraw and competitive client service. Newcomers will like intuitive user-friendly interface and easy-to-start platform. The key focus is client funds safety. Daily backups of everything, distributed all over the world servers, 2-step authentication based on your mobile device and much more for your security. For professional traders there are quite a number of features: - High liquidity - Core matching engine - No limits for funding/withdrawal of cryptocurrency - Low fees - High-speed software - Large selection of tools - High level of security - The most professional API (4 advanced types of protocols)
Reviews
Alison

-

September 19, 2018

Number of complaints is growing every day, withdrawals pending, funds frozen, KYC malpractice, technical issues and a deafening silence emanating from HitBTC; Being a part of a community of unhappy customers I'm here to warn each crypto investors not to be fooled.
---
Armin

-

September 19, 2018

Those who had their money stolen/blocked by Hitbtc, make sure that you file claim to Hong Kong cyber crime police, the process is straight forward, google CSTCB and fill the form, indicate the stolen amount and make sure to write company name "Hit Solution Limited, CR No.: 2510720. Registered / Principal Office: Unit 19, 7/F., One Midtown No.11 Hoi Shing Road, Tsuen Wan, New Territories, Hong Kong" this is being taken seriously by the authorities where the company is registered; Feed back from traders is extremely positive, it is important to file a complaint to reserve your right to claim refund and compensation before the police shut them down.
---
The Master

-

September 19, 2018

One more fake review here, usually he post four or five reviews in one shot.
---
Union

-

September 19, 2018

From the very first day of work with this exchange, I had only positive emotions. I went through a lot of projects and all kinds of exchanges, faced with deception and scam.
---
Owen

-

September 19, 2018

Get an attorney, Sounds like you are being scammed Jack. Sorry!
---
Alison

-

September 19, 2018

Don't give these scammers the benefit of using the money that you own for a Tahiti or Maldives luxury trip, Bombard them day and night with reminders to resolve your issue, Confront them aggressively on every social media channel they use, Expose them, That's what I would do, if I were in your shoes
---
Jack

-

September 19, 2018

Those scammers have locked my account with 3 BTC in it, my ticket is open since three month and no response from their non existent support
---
Ibrahim Halabi

-

September 19, 2018

hitbtc ask me social media account for kyc then my facebook and email hacked fuck hitbtc my bank link another email, fruad exchange
---
Mac

-

September 19, 2018

Can tell your lot of stories about their super bad support which understand only copy/paste one time per month. they hire this kind of low caliber people to make you gave up and leave and forget about your money, total scam
---
Afandy

-

September 19, 2018

more fake good reviw by shitbtc
---
Patrice

-

September 19, 2018

Personally I never had any problems, only problem my funds frozen
---
abadi

-

September 19, 2018

I have always avoided HitBTC like the plague, they've been always dishonest. I cannot fathom how people still trade on it.
---
Justin

-

September 19, 2018

DON'T USE IT, FUND FROZEN
---
Jones

-

September 19, 2018

this exchange is a scam. HitBTC is a scam. I lost thousands my coins trapped loosing price
---
Jasmin

-

September 19, 2018

Platform below ordinary, involve in lot of issues plus no payment to traders i give zero star
---
Roman

-

September 19, 2018

The average exchange. I would like to, that the tech support answered more quickly. And as soon as possible, work was carried out to improve the quality and speed of transactions.
---
Strong

-

September 19, 2018

There are disadvantages, but still the administration is trying to fix bugs, etc. Withdrawal / deposit of funds works stably ...
---
Teves

-

September 19, 2018

I registered on the exchange a long time ago. On the 29th of August I made a deposit of $ 1000, then I tradedd dollars for XRP. The withdrawal of funds is hanging ... A day later I wrote in support. Today the appeal was processed, the coins came to the specified address. Something like this.
---
XXX

-

September 19, 2018

Honestly, I did not enter the account on the exchange for about two months. Today I made a deposit (coin) on the site, changed it for another coin, withdrew from the exchange to my wallet, without any problems.
---
Fred

-

September 19, 2018

Unless you shout loud on their Twitter you won't get your money back.
Submit a Review