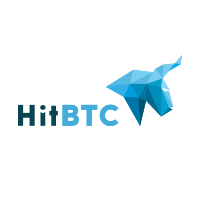 Description
Update
HitBTC is a global trading platform with multi-currency support operating since 2013. Besides trading cryptocurrencies, tokens and ICOs, HitBTC provides proper markets for fiat trading, including USD and EUR trading pairs. HitBTC is a place where both newcomers and trading professionals will be able to trade with ease. It was built on top of modern technologies to provide fast, secure and reliable service. Customers will appreciate fast order execution, convenient ways to add deposit and withdraw and competitive client service. Newcomers will like intuitive user-friendly interface and easy-to-start platform. The key focus is client funds safety. Daily backups of everything, distributed all over the world servers, 2-step authentication based on your mobile device and much more for your security. For professional traders there are quite a number of features: - High liquidity - Core matching engine - No limits for funding/withdrawal of cryptocurrency - Low fees - High-speed software - Large selection of tools - High level of security - The most professional API (4 advanced types of protocols)
Reviews
Sting

-

March 17, 2019

HitBTC made my life much easier. But please prepare yourself for the verification process. It takes some time.
---
Mia R

-

March 17, 2019

This exchange has helped me a lot in my time and to this day I am happy with their work. They support me, offer very important things that subsequently brought me to a new level of earnings. Respect the guys.
---
2Fear

-

March 17, 2019

There are quite few Trollbox rooms, but can we have one more for India? Alot of users you have from this country I think. Just please, let us have own room!
---
Nilon

-

March 17, 2019

Hitbtc seems to be good exchange by the way it has added a new token IOTA, if you still don't know then come to the exchange and watch the amount of tradings , If we see the movment then we can buy it.
---
father

-

March 17, 2019

Pretty good crypto-exchange
---
Moral

-

March 17, 2019

Wondeful support
---
Romero

-

March 17, 2019

Excellent service for beginners. When I started trading, I noticed hitbtc, and I've been trading on this exchange so far. I really like the interface, it's important for me, especially when you sit in front of the monitor every day!
---
Samuel

-

March 17, 2019

If you are looking for a reliable exchange with a large number of currencies, then you have found it!
---
Tyler

-

March 17, 2019

It's a not very bad trading platform. From time to time I trade there
---
Hunter

-

March 17, 2019

Well, it's just another average exchange. Got it's pluses and it's minuses. Like low fees and enormous quantity of currency pairs, for example.
---
Pride

-

March 17, 2019

For some reason I like this exchange more than others. I don't even know why, maybe I just got used to it. It's a reliable one
---
Carry

-

March 17, 2019

This HitBTC platform got appropriate fees and provides good services to its users. I'd advice HitBTC to the most skillful traders as it has too many extra functions.
---
Wang

-

March 17, 2019

I work 24/7. I do not have time for trading. I just buy some rare cryptos and HODLING! Most of the time i use this one and 2 other exchanges for that.
---
Brandon

-

March 17, 2019

i don't know! I've heard that hitbtc has a good security and their devs always work on improving it. That's what people say.
---
Richard

-

March 17, 2019

Hi I am Richard. Owner of one of the bitcoin largest mining farms in Austria. I have been mining locally for over 5 years now but I have decided to bring my services to the entire public now. We already have over 1000 members renting mining spaces with us and earning at least $400 daily for the farm. You want to be part of us? We will be giving extra bonuses to the next set of 500 members.
---
Johnson

-

March 17, 2019

Guys reaching out to Richard. I mean the post below. He is of great help if you looking to invest in bitcoin with great returns weekly.
---
Tom

-

March 17, 2019

Great number of currencies; probably the biggest of all exchanges that now exist. This is a big plus as I don't need to use many different exchanges to buy all the coins that I need, I can use this one.
---
Subzero

-

March 17, 2019

I can not agree with you... It is not the best exchange, but not scam also. I communicated with their support team 2 or 3 times and it was OKAY, they usually answer all of the questions.
---
Method

-

March 17, 2019

Have been using hitbtc for almost a year. It's a great exchange, no doubt. Fast transactions, fast withdrawals. Once I've spent a few days waiting for hitbtc support to answer, though.
---
Signal

-

March 17, 2019

I know that all my money are safe here. This exchange never stole from me, unlike some others... The transactions are very fast too. That's why I don't understand those posting 3-star reviews
Submit a Review