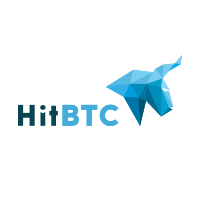 Description
Update
HitBTC is a global trading platform with multi-currency support operating since 2013. Besides trading cryptocurrencies, tokens and ICOs, HitBTC provides proper markets for fiat trading, including USD and EUR trading pairs. HitBTC is a place where both newcomers and trading professionals will be able to trade with ease. It was built on top of modern technologies to provide fast, secure and reliable service. Customers will appreciate fast order execution, convenient ways to add deposit and withdraw and competitive client service. Newcomers will like intuitive user-friendly interface and easy-to-start platform. The key focus is client funds safety. Daily backups of everything, distributed all over the world servers, 2-step authentication based on your mobile device and much more for your security. For professional traders there are quite a number of features: - High liquidity - Core matching engine - No limits for funding/withdrawal of cryptocurrency - Low fees - High-speed software - Large selection of tools - High level of security - The most professional API (4 advanced types of protocols)
Reviews
Stock_Jocky

-

May 25, 2018

Agreed with those that say the site has more coins to trade, but that is of little value if you can't move, trade, or exchange the coins. Like other reviewers I find their customer service pathetic if it exists at all. I made my first purchase and moved them to my private wallet without issue. My 2nd and last purchase I have been unable to do anything with the XDN, and in a month time, no response from them.
---
daryl

-

May 24, 2018

If we argue objectively, then there are a lot of things in this exchange that needs to be further improved. However, even at the moment it's quite a reliable exchange and I think it will suit to most of the traders.
---
One trader..

-

May 24, 2018

Not the worst exchange, by the way. I know this from my own experience with other exchanges. There are fewer problems here than even in the largest "reliable" exchanges.
---
Harry

-

May 23, 2018

I know HitBTC has been working for a long time without any problems. They provide great service and work for people who chose them. Very polite stuff, which speaks English very good and not only English.
---
Frayy

-

May 23, 2018

If you are looking for a reliable exchange with a large number of currencies, then you have found it!
---
Harry S

-

May 21, 2018

Excellent service for beginners. When I started trading, I noticed hitbtc, and I've been trading on this exchange so far. I really like the interface, it's important for me, especially when you sit in front of the monitor every day!
---
nigma

-

May 21, 2018

Did anyone make money with this exchange? Can you write here if you know how to do it?
---
trader

-

May 20, 2018

this is a scam site. They've never solved a ticket yet. They just say that they are sorry for the...
---
Payami_xx

-

May 19, 2018

If it were possible, I would put 6 stars! Where else have you seen such low fees? Now I spend much less money when I make transactions. Excellent exchange, I recommend it to everyone!
---
karry

-

May 19, 2018

it is very gud
---
Daren

-

May 18, 2018

A week has passed since I switched to hitbtc. The transaction speed is quite large, the commission for withdrawing funds is much less than on other exchanges that I used. In general, I like it. Let's see what happens next!
---
JDRR

-

May 18, 2018

HitBTC are either liars or crooks, and maybe both. They've had Siacoin 'technical maintenance' going on for about a month and a half now. They claimed they were working on a new wallet but there isn't one so far. They closed all support tickets even though the matter is not resolved. They will not commit to a timeframe for completion of this supposed maintenance, but they did siphon off a lot of SC into their account address without crediting it to its rightful owners. If you have SC with then, check your support tickets and reopen them if they've been closed! Keep on them about this. If they actually do come through, I'll post another review saying that.
---
Sid Bolz

-

May 17, 2018

I use HitBTC for a long time. I think you won't find somewhere else an exchanges where are available more than 600 currencies and tokens. In my opinion, the HitBTC is no worse than the rest. I would even say this is one of the best exchanges that exist at the moment.
---
Darkknight

-

May 16, 2018

Hello, my name is Steve. I heard about hitbtc by chance on advertising last year. Most of all I was glued to low commissions. After using for a while, I wouldn't say that fees is much lower than in other exchanges. But I learned that there is one address for all eth tokens! In general, the exchange is not bad. There are both pluses and minuses.
---
Davidyebo1

-

May 14, 2018

I am speechless, I bought some DCN and wanted to withdraw, but they are charging 50% of the total DCN. This is crazy. How can they take all my coins? Oh God help us
---
jack

-

May 14, 2018

scam site
---
Mavo

-

May 14, 2018

SCAM, try to avoid it. They want your bitcoins, apply fee, and you cannot validate your data and trade with the bitcoins, so finally you withdraw the bitcoins and need to lose money again in a transaction. Is living for fees, but is not working.
---
JG

-

May 14, 2018

Nobody answer, nobody validate my data, nobody do nothing. The worst exchange in the web, try to avoid it.
---
wagdy eskander

-

May 13, 2018

I had no problem with any other crypto currency exchanger to deposit or withdraw any kind of coins. This exchanger HitBtc they don't respond to any emails regarding complaints or questionair. I accidentally found a complaint from one of their members about refusing his request to withdraw his coins. I decided to do the same to know exactly if this is true or not. I'm now %100 sure that it's true- I want to get all my coins from this exchanger but they do not respond. What can I do now- I need to get my money but they do not allow me to get it and this is for sure illegal because to my knowledge there isn't any financial institution centralized or dicenterlized has the right to keep somebody's money for no reason. I tried several times but no answer.
---
Felipe

-

May 11, 2018

the worst exchange i've use so far
Submit a Review