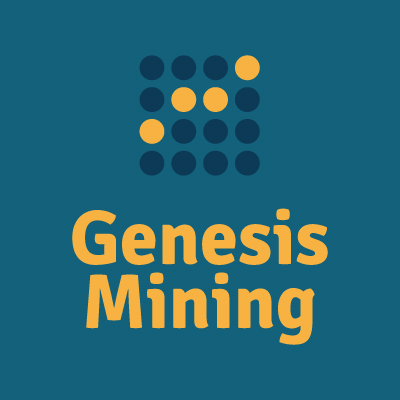 Description
Update
Genesis mining is the largest and most trusted cloud mining provider in the world. The company was founded in 2013 and now owns mining farms located in Europe, America, and Asia. Genesis mining offers a smart way to invest your money, it is suitable for those who are new to the world of crypto currencies as well as for experts and large investors. With Genesis mining, it is the easiest and most cost-effective solution for crypto currency mining. You do not need to buy and set up any specialized mining hardware and software, Genesis mining takes care of all of that. They are heavily investing in the best available mining hardware which they offer to their clients for rent. You only need to buy hashpower to start mining your favorite cryptocurrency. They accept cryptocurrencies as well as credit card payments. Main features of Genesis Mining: very low min. investment amount, daily payouts to your wallet, no mining pool fees.
Reviews
James

-

January 28, 2018

Let's double your coins for you… Make a deposit and receive double of the amount deposited. Your investment will be sent back to the address used after 6 hours of deposit… Send Bitcoin amount you want to double to address below
---
M

-

January 22, 2018

Didn't get my payment. Better go with BitcoInvest, link: bitcoinvest.cc
---
Phil

-

January 17, 2018

Been with Genesis for about 8 months now, Bought over $6800 worth of dash, monero, and ethereum hash power on my credit card, Payouts always missing and weak , Customer support never responds. I will be lucky to break even after the 2 year contract is finished (that's if there still around?) My advice is find another cloud mining company or just buy the coin that you like. Genesis Mining IS NOT the way to go. Just my 2 cent Don't make the same mistake I made.
---
Katie

-

January 13, 2018

If you are looking for the best cloud mining company to start making money online - use HASHFLARE! They are definitely the best! payments are made immediately! Use this link when registering for hashflare to get 10% more btc each payout bit.do/d2z9v This is not fake btw :/
---
Juan

-

November 20, 2017

Be careful with this people, they are not paying.
---
Marcos

-

November 12, 2017

Be very careful and do not make large investments with mining in Genesis, the main problem is that they skip the days of payments, you have to claim them and they are very slow to respond, the answer they give is not consistent at the end you accumulate missing days without pay, on top of that when the difficulty of the mining goes up they give you less the same day but if the difficulty goes down they do not pay you more until you claim it. They pay three days late and make many mistakes always in their favor. Constant problems, a lot of headache.
---
Sam P

-

November 10, 2017

Poor website, Poor Customer service though fairly regular payouts (technical issues permitting!) Genesis Mining have the most frustrating and useless website about as far as mining goes. They show you a list of payouts though if you are under their payment minimum for anything have no idea on how close you are to actually getting paid. They list your "returns" as a chart in USD which is pretty pointless unless you are cashing your crypto to USD then and there. The chart seems to randomly at times reset to start from zero again. Only way I can tell how it's going is by using a spreadsheet and tracking the actual payments received. BTC is pretty regular in being paid tho they still seem to have technical issues now and then. ETH I can't really track too easy as some days "payments" seem to disappear on their list so no idea on what I got for that day and can only go by the actual payments received in my wallet. BTC seems to have paid for itself after 3 months (thanks to the bit increase in the value of BTC) but I would have been way better off to have bought BTC and just let it sit in my wallet. Trying to get any answers through their "customer service" is also painful and frustrating. BE prepared for standard non-replies and waiting ages for them even. Good luck getting any actual resolution!
---
Markdon

-

November 1, 2017

Genesis is not bad website but slow earning. Wwwbitcoinsfly com is better than genesis
---
Varun Anand

-

October 25, 2017

Garbage! stay away as they steal your money by selling you crap infrastructure that is actually not able to mine much. So you never get your money back!
---
Jason

-

September 28, 2017

I've had an open support ticket for over a month. Haven't received a payout in 2 months !!! Buyer beware !!!
---
Kevin

-

September 27, 2017

One would be MUCH MUCH better off with a buy and hold strategy. Can you make profits with them??? Yes, you can but my profits would have been much better with a buy and hold strategy. "But what if the coin I buy and hold goes down?" If the coin you are mining goes down your contract will go under water as well, the same as if you buy and hold the wrong coin. I would have also had much more liquidity and fewer headaches with buying and holding than with Genesis Mining. They say that the daily payouts have returned but this is not the case for my account and it has been over two months now. They are not necessarily a scam but they are not a good investment either. You are making THEM money by investing in them. Buying and holding on the other hand, the profits are all yours!
---
Nightowl

-

August 28, 2017

I have been mining with Genesis for just over 3 months now and was pleasantly suprised to find the numbers actually do stack up in my favour. i originally thought this was a scam but so far so good. Check out my full review and analysis here and let me know what your experience has been! https://cryptograph.me/2017/08/24/the-real-data-behind-genesis-cloud-mining-no-bull-shit/
---
jamesdarko

-

August 18, 2017

Alright so here it is, don't ever invest in genesis , there is no way to make a profit, even have your money back, I bought a 2 years contract and 3 months in is almost not paying and will stop paying in 2 months if I'm lucky. It was an 18 000 $ investment, I will lose around 5-6 k on it. If you invest less money it's gonna be even worse. If you want something really profitable that give you money every day like Genesis but you get your money back at the end, try this http://www.bit.ly/2vSX0xx , there is nothing to compare and cliff mention it in one of his report for those who know him, and again don't invest in genesis i quote one sttar but i would vote minus 5 star
---
tommyturb00

-

August 6, 2017

They stop payments all the time. They were just hacked. SLOW support staff. I haven't had a payout in over 7 days!
---
Bongo

-

July 26, 2017

AVOID. They stopped paying anyone as of 7/21/17.
---
james darko

-

July 17, 2017

poloniex stole all my mining from genesis 1.83 bitcoin, now im into trouble , have 21 months left to my contracts of 4040 mhz x11 worth 18 k usd , if anyone is interested i would let them go for 10 k usd , we would go through genesis for payment and transfer, send email to websolutiona@gmail.com if interested, write genesis as title please thanks
---
Aljoša

-

April 25, 2017

They pay out according to the contract, but the contract itself in not profitable for BTC ... If you don't want to lose money do not invest in BTC mining. It can be profitable if you abuse the affiliate system and bring other people in the shi... If you want to see it for yourself than you can use my code as well: wRkYrV, I don't recommend it though. May be profitable for DASH at the moment though.
---
edita

-

March 25, 2017

not bad...but not good bitcoin
---
Mando

-

March 25, 2017

It;s not profitable...but it's trustable company http://www.creati-ve.com/2017/01/bitcoin-cloud-mining-earn-money.html
---
Adam Johnsson

-

January 9, 2017

Thanks for the review. I used Genesis Mining review with Allcloudminers. They provide payout charts, expected ROI and profit calculations. They also have cloud mining reviews and calculations from many other contracts. They write about scrypt, zcash and ether cloud mining contracts. For Genesis Mining review: http://www.allcloudminers.com/genesis-mining-review/
Submit a Review