3.75

16

reviews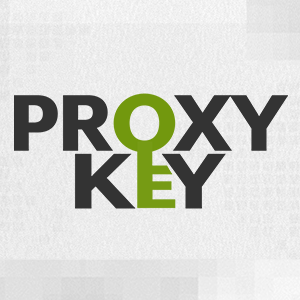 Description
Update
Proxy Key offers reliable private proxy solutions to surf the web with your own dedicated IP address. We have high performance servers in multiple US, Europe & worldwide locations, highly anonymous IPs, track record of 99.92% historical uptime, and super quick 1 GBPS speeds to support your browsing needs. Visit https://www.proxykey.com for FAQs, proxy tutorials and support.
Reviews
Write a review
J.J.

- October 22, 2018
Very happy with the service and proxies
---
Jordan S.

- September 20, 2018
AWESOME!
---
Will T.

- September 14, 2018
Oh, and to the guy below - M.D - September 13, 2018
I think they say in their TOS that they don't refund BTC. Probably a good idea to read about payment specifications before sending anyone BTC.
---
Will T.

- September 14, 2018
4 months and counting, and my business is doing better than ever thanks to Proxy Key. Will be sticking around for a while!
---
M.D

- September 13, 2018
ProxyKey is definitely the WORST experience I had on internet.
I bought 1 Japan proxy. The emailed me saying that they do not offer 1 JP proxy (only 100 proxies packs for JP) and wanted me to choose another location. Even though 1 JP proxy was available on their website as a service!
I politely explained that there is no point in other locations as I have a specific need and if they cannot provide the JP proxy, I would appreciate a refund.
Here is the answer from their support John Penney: "Unfortunately there is no way for us to be able to refund a bitcoin transaction, this is why we are offering you a different IP in lieu of Japan."
Refusing to refund me and asking me to change my order was already rude enough so I explained that they should take responsibility for the services they offer on their website and insisted on getting a refund. Obviously the rest is known, pretending to be transparent since their TOS states that BTC does not get refunded (Transparent company that offer fake services, yeah...)
I have all the needed proofs in case they claim I am a fake customer or that did not happen like most scam companies do on reviews websites.
My advise: STAY AWAY FROM PROXYKEY, just google "private/premium proxy" and you'll get way more better options. It is not a coincidence that they have that much negative reviews.
---
Anonymous

- September 12, 2018
Great IP, a bit expensive. Offer many countries. I wouldve given it 4 starts if it wasnt for this horrible rude support.
---
Connor L,

- June 20, 2018
This works like nothing else, and their support is great. Thanks guys!
---
Josh R.

- May 31, 2018
I've been switching providers for around 6 months until I stumbled upon Proxy Key. Having experienced a ton of blacklisting issues (with competitor research) in the past with other providers, I gave Proxy Key a shot in hopes of eliminating the problem and I'm incredibly happy with my decision. They've been incredibly helpful from the get go - testing the proxies for my needs prior to issuing, to troubleshooting a few issues I bumped in down the road, and being responsive every step of the way. I just upgraded my package with them and plan on sticking around as long as I need proxies. By far the best proxy company out there.
---
Adam Cable

- May 21, 2018
Horrible service,horrible support,expensive and they are very rude in support. i have a problem with proxies and from 10 days they just ignore my messages and they never fix,and the idiot from support come after 8 days and tell me that he can replace my proxies every time,but when i say him that he never replaced he said that he reset my proxies and all are alive,but the problem is with user id and password,i give them the error where is say very clear that the user name and password is not working,and this idiot from support again answer totally out of subject and he say that my proxies work well. they just ignore you and they are very rude,or they close tickets without any answer,or if they answer you to tickets will takes 5-6 days.. every time when i pay they not find my payment,again takes 4-5 days to locate my payment,and in all this time i get several notice about over due payment,date of next due invoice is always different,i paid invoices every time and i still have in my account invoice what show unpaid and get every day email with over due notice, i try fix with support but they are just rude,ignorant and idiots.
---
Nick

- January 17, 2018
Best proxy service I've used. Fast live chat feature, email, phone support...and they speak English, which is paramount.
---
Sean

- November 10, 2017
I've used every provider available, nothing compared to Proxy Key. Everything from quality, to customer service. A few server hiccups aside, they've been incredibly reliable and trustworthy.
---
Asta

- November 8, 2017
Btc transaction stuck for couple of hours. Proxykey invoice time limit expired after 1 hour.
I sent them hash, that btc went through.
Support answer: Will review your account today and send you an update. Please keep an eye on your email.
11 Days later..: Please provide some more information on this transaction, like date, amount, name/email address, etc.
Time, btc address is on hash which I sent them with ticket. Address, name etc is on my account. I told them so, no answer again. :)
World class service, worth of the high price. 'Sarcasm intensifies
---
Conor

- October 10, 2017
my company has been using Proxy Key for years, no other provider compares. Love these guys!
---
Den Gills

- July 25, 2017
So far so good. I've been a customer for 2 years now and I'm happy with the quality of the proxies as well as the support. Nice to see a US company for once.
---
Cris

- October 28, 2016
Expensive low quality proxies, worst support that I've ever saw, you getting different order then you've bought and paid and much more.

I'm using private proxies for many purposes for over 6 years and so far proxykey is the worst prpvoder that I've ever saw.

Don't waste your money ans don't buy anything from them.
---
anonymous@gmail.com

- February 6, 2015
Very happy!
Submit a Review