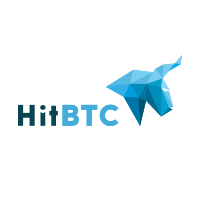 Description
Update
HitBTC is a global trading platform with multi-currency support operating since 2013. Besides trading cryptocurrencies, tokens and ICOs, HitBTC provides proper markets for fiat trading, including USD and EUR trading pairs. HitBTC is a place where both newcomers and trading professionals will be able to trade with ease. It was built on top of modern technologies to provide fast, secure and reliable service. Customers will appreciate fast order execution, convenient ways to add deposit and withdraw and competitive client service. Newcomers will like intuitive user-friendly interface and easy-to-start platform. The key focus is client funds safety. Daily backups of everything, distributed all over the world servers, 2-step authentication based on your mobile device and much more for your security. For professional traders there are quite a number of features: - High liquidity - Core matching engine - No limits for funding/withdrawal of cryptocurrency - Low fees - High-speed software - Large selection of tools - High level of security - The most professional API (4 advanced types of protocols)
Reviews
Analyn Salinas

-

February 24, 2020

Am so happy for the successful trade i made with the best investment platform which has made me who I'm today. This post am sharing to you all may not mean nothing to you, but I'm sharing this for the passed experience with fake account manager. But i want to thank God for the gift of a trusted account manager Mrs Van Yoelle,who helped me, she is the only woman that i can trust with my whole life and ever since i meet her,i have been receiving my payout as been promised... Thank you mam, you're a wonderful woman Mrs Van Yoelle..you can contact her on Whatsapp: +1 518 622 1571
---
Tommy

-

February 23, 2020

The best exchange
---
Qwerty-

-

February 23, 2020

4/5 points because the level of service is good but could be better.
---
Wang

-

February 23, 2020

I've been using Hitbtc for a year now. Now I trade mostly on Hitbtc and it is not the best exchange in the world… But not a bad one also.
---
Herald

-

February 23, 2020

Exchanges are not as reliable as cryptowallets. Yet, HitBTC appears to be a very good as both exchange and wallet.
---
Zeus

-

February 23, 2020

All transactions are made in one click. At first, I was new to trading platforms and I just couldn't understand how to receive confirmations and all things like that. The support service resolved my issue very rapidly, explaining everything in detail. Good job, guys.
---
Chris

-

February 23, 2020

Last week I withdrew my BTC into BCH address by mistake. But hitbtc support solved this problem in a few hours. I'm sure that other exchanges would not do so as it was my mistake, not theirs.
---
Vlad

-

February 23, 2020

Been using some exchanges recently just in order to get some some knowledge of how the stuff is going on around here. Love HitBTC just because it is user-friendly despite the complicated and huge dashboard. Maybe there's no way to make it more simple.
---
Father

-

February 23, 2020

good service
---
Jackson

-

February 23, 2020

Have been using hitbtc for almost a year. It's a great exchange, no doubt. Fast transactions, fast withdrawals. Once I've spent a few days waiting for hitbtc support to answer, though.
---
First

-

February 23, 2020

I wrote to the support team a day ago. They have already answered and solved my problem! Thank you that you solved everything so fast!!!
---
Mango

-

February 23, 2020

From the very first day of work with this exchange, I had only positive emotions. I went through a lot of projects and all kinds of exchanges, faced with deception and scam.
---
Samuel

-

February 23, 2020

In fact, not so many people face problems on this exchange. Those who face it, write negative comments with ratings 1 out of 5. The truth is, most of users do not have any problems.
---
Promo

-

February 23, 2020

You can see the difference when you move from another exchange… Some exchanges are 'good' and some are absolutely horrible. I'd say this one is mostly good, especially when it comes to the fees and its support.
---
Alien

-

February 23, 2020

Probably one of the best platforms for executing transactions on the exchange of crypto currency. This exchange I use not the first time, there are no complaints, the funds always arrive on time, in the volume in which they are indicated.
---
Andy

-

February 23, 2020

I want to say thank you for having helped to get my money, sent aired to the purse of the classic by stupidity, waited 2 weeks for it but I understand how hard it was to return it, thank you again.
---
Fred

-

February 23, 2020

I'm fond of many rare tokens and buy those tokens here most of the time.
---
Rocket

-

February 23, 2020

It's great that all rare ICO tokens can be traded on HitBTC in BTC, ETH and USDT. HitBTC has the best trading deals with new ICO tokens.
---
Chong

-

February 23, 2020

I wasn't a good trader in the beginning, but later everything turned out to be very simple. Now it's one of the most profitable exchange for me.
---
Pixel

-

February 23, 2020

Support is fast here. The answer came in 10 minutes. I always get surprised when come across all those negative reviews on hitbtc.
Submit a Review