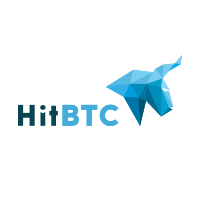 Description
Update
HitBTC is a global trading platform with multi-currency support operating since 2013. Besides trading cryptocurrencies, tokens and ICOs, HitBTC provides proper markets for fiat trading, including USD and EUR trading pairs. HitBTC is a place where both newcomers and trading professionals will be able to trade with ease. It was built on top of modern technologies to provide fast, secure and reliable service. Customers will appreciate fast order execution, convenient ways to add deposit and withdraw and competitive client service. Newcomers will like intuitive user-friendly interface and easy-to-start platform. The key focus is client funds safety. Daily backups of everything, distributed all over the world servers, 2-step authentication based on your mobile device and much more for your security. For professional traders there are quite a number of features: - High liquidity - Core matching engine - No limits for funding/withdrawal of cryptocurrency - Low fees - High-speed software - Large selection of tools - High level of security - The most professional API (4 advanced types of protocols)
Reviews
Quentin

-

August 14, 2018

I can not see a reason to call it a scam, actually. But some features could be implemented better.
---
Jimmy

-

August 14, 2018

HitBTC implemented innovative features such as real-time clearing, advanced order matching algorithms and has been acclaimed for its fault-tolerance, uptime and high availability. I'm pleased with such exchange platform as they support various coins and tokens as well.
---
Onur

-

August 14, 2018

The best exchange market
---
Hazem Samman

-

August 13, 2018

Don't let the positive reviews posted here fool you, they could be fake; make your own due diligence! Before sending money to Hitbtc check other resources perhaps Hitbtc official twitter or Reddit accounts, Hitbtc have locked thousands of traders accounts lately, Hitbtc is potentially insolvent so they started such awful practice for keeping funds in their exchange which is about to die; Check their daily trading volume on coinmarketcap, you'll notice that comparable exchange such as Binance, OKEX or Huobi is trading four or five times the tiny volume of Hitbtc.
---
Arnold

-

August 13, 2018

I'm mostly satisfied with a customer service here, especially in comparison with other markets. You just create a ticket, describing your issue through the online form and get a rapid reply by e-mail. The agents answer even the most stupid questions. Along with that, it's not a kind of "robot responses". After many trials and errors and wasted nerves due to the instability of some markets, I've finally chosen this platform.
---
Neil Thomas

-

August 13, 2018

KYE Know Your Exchange..... Hitbtc is the only exchange where individual accounts have been hacked..... They receive 600% more complaints on the internet than any other exchange..... They put you through hell just to get your own money back, or not at all...... A year from now when Hitbtc is shut down they will be the crowning jewel of cautionary tales of criminal crypto organizations....... It is a shame that the greatest technological and sociological advancement in many generations is met with creeps like Hitbtc...... Hitbtc either stole, or allowed someone to steal $4000.00 from my account which was my emergency Veterinarian fund for 12 animals I care after.......
---
John Lewis

-

August 10, 2018

The ideal exchange, loved it from the first trading! Best rate, quick exchange (sometimes almost instant) and good tech support! The simplest interface. Use for six months, and the delay happens only 1 time (of about 20-30), but tech support resolved the issue within days!
---
Bob

-

August 10, 2018

Everything is so fast that even the eye did not have time to blink! Surprised by the quality and speed. Pleased, well done. I will continue to work with you! Score 5/5
---
Kimberly

-

August 10, 2018

I think it would be great to see the list of 'de-listed' coins or tokens so I know what to expect to be added later. You can still use the 'System Health' page for the reference, but I believe it doesn't keep the history of all the changes.
---
Oliver Gale

-

August 10, 2018

Another great thing I love about the community, that HitBTC allows their users to participate in the moderation of the Trollbox. Sometimes it goes wild but usually it's great.
---
Einar

-

August 9, 2018

I am tendering on different exchanges, and I can not say that HitBTC is different than something special from others. I didn't face any delays or other problems, in general the level is the same as the others. Let's see what will happen in time.
---
Fiona

-

August 9, 2018

The trollbox is fun, but I wish there was an option to open it in a new tab just tapping a button in the dashboard. Or is there and I just do not see it?
---
Trev

-

August 9, 2018

Love the news showing on the top of the dashboard, but I think it would be also great if they posted there an updates of the ChangeLog. That would be interesting to read too. Also, the form of the 'Contact Support' is impossible to find, at least for me.
---
Marcey

-

August 8, 2018

Interface is great. One of the easiest to understand as i am a newbie. Really thought crypto world is not for me for a long time but with hitBTC it seems like even i can make some money here.
---
Mr Green

-

August 8, 2018

HitBTC is one of the few exchanges that supports direct fiat/cryptocurrency trading. In order to buy bitcoin with fiat currency (USD or EUR) through HitBTC, you will need to verify your account. Even if it could take some time, such verification process typically takes 3-5 days. Anyway, fees are very convenient for such great feature.
---
Kate

-

August 8, 2018

Feels like a safe platform compared to others. Also, works pretty fast and support team is helpful enough.I'm new to this but this was a good experience. Will update my review if anything changes.
---
Diana

-

August 8, 2018

I tried a lot of different exchanges before I found this one. Everything works quickly, and if there are any problems (let's be honest, it happens EVERYWHERE), all is quickly solved. I think I'm here for a long time.
---
Lily

-

August 7, 2018

I choose HitBTC as it's always full of new tokens and currencies. There I can find all the rare cryptos at cheap prices. That's really great and saves time too.
---
Kevin Martin

-

August 7, 2018

Not "the most advanced cryptocurrency exchange" When coins are offline they don't tell you where the problem is, how long it will take to solve it or what they are going to do about it. Basically they let you trade currencies which are offline without giving you a single warning (except on the "System health"-page) that you can't withdraw them. The customer support told me: "XDN operations are currently suspended due to the ongoing technical maintenance. We are tightening up some mechanisms and soon everything will get back online." That's nice but it didn't help at all. As you can see on the System Health-page , XDN is offline since May and they don't say a single word about what's going on and when it will be back online. You're trying to be "the most advanced cryptocurrency exchange", but: - Your customer support is not very helpful - There is nearly no connection to the customer. People can't find out why and how long something doesn't work. - You don't give a warning on the balance/exchange-page about a coin being offline - Many coins are often offline for a long time with no reason or explanation This was the first and last time i've used HitBTC. Now i can only hope that one day i'll finally be able to withdraw my XDN...
---
Brandon

-

August 6, 2018

My laptop is back from the service centre! I'm finally back, dear community! Can't wait to see what's new.
Submit a Review