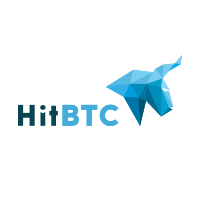 Description
Update
HitBTC is a global trading platform with multi-currency support operating since 2013. Besides trading cryptocurrencies, tokens and ICOs, HitBTC provides proper markets for fiat trading, including USD and EUR trading pairs. HitBTC is a place where both newcomers and trading professionals will be able to trade with ease. It was built on top of modern technologies to provide fast, secure and reliable service. Customers will appreciate fast order execution, convenient ways to add deposit and withdraw and competitive client service. Newcomers will like intuitive user-friendly interface and easy-to-start platform. The key focus is client funds safety. Daily backups of everything, distributed all over the world servers, 2-step authentication based on your mobile device and much more for your security. For professional traders there are quite a number of features: - High liquidity - Core matching engine - No limits for funding/withdrawal of cryptocurrency - Low fees - High-speed software - Large selection of tools - High level of security - The most professional API (4 advanced types of protocols)
Reviews
Chong

-

May 19, 2019

Well, it's just another average exchange. Got it's pluses and it's minuses. Like low fees and enormous quantity of currency pairs, for example.
---
Alexandr

-

May 19, 2019

The average exchange. I would like to, that the tech support answered more quickly. And as soon as possible, work was carried out to improve the quality and speed of transactions.
---
Fact

-

May 19, 2019

There are disadvantages, but still the administration is trying to fix bugs, etc. Withdrawal / deposit of funds works stably ...
---
Odium

-

May 19, 2019

I registered on the exchange a long time ago. On the 29th of August I made a deposit of $ 1000, then I tradedd dollars for XRP. The withdrawal of funds is hanging ... A day later I wrote in support. Today the appeal was processed, the coins came to the specified address. Something like this.
---
Pocket

-

May 19, 2019

Honestly, I did not enter the account on the exchange for about two months. Today I made a deposit (coin) on the site, changed it for another coin, withdrew from the exchange to my wallet, without any problems.
---
Tyler

-

May 19, 2019

Hitbtc - quality exchange
---
Lee

-

May 19, 2019

very good exchange and developed constantly
---
Rocket

-

May 19, 2019

There is no need to say that every crypto platform should be highly secured. That is crucial. Each significant action like login or withdraw in could be protected by 2FA. They also propose an advanced encryption technology, cold storage. Their brand new feature lets you create a list of approved addresses to withdraw your funds to.
---
Founder

-

May 19, 2019

They provide an affiliate program for all users. If you join their partnership program you may get up to 75% of commission from users which you have engaged.
---
Prince

-

May 19, 2019

Support is fast here. The answer came in 10 minutes. I always get surprised when come across all those negative reviews on hitbtc.
---
Val

-

May 19, 2019

Have been using hitbtc for almost a year. It's a great exchange, no doubt. Fast transactions, fast withdrawals. Once I've spent a few days waiting for hitbtc support to answer, though.
---
Simon

-

May 19, 2019

Awesome interface! Looks like the first professional player in the market
---
Prince

-

May 19, 2019

I got my SEPA withdrawal directly to my bank in 8 hours! Very fast API!
---
Underdog

-

May 19, 2019

The lovely one to buy bitcoins from my bank account
---
Simon

-

May 19, 2019

Seems like these guys started working all over again. Received frozen funds. Suppose they had problems but now work fine.
---
n00nes

-

May 19, 2019

Great exchange to trade crypto - fast and easy. Fund/transfer buttons were a bit hard to find in the interface. Now waiting for verification to start trading fiat.
---
Nho

-

May 19, 2019

Great exchange for beginner and experienced traders. Its easy to use and understand. I find it much easier to use than some other exchanges I have traded on. The people who say it's a scam are just idiots who don't know how to trade and blame others when they screw up. HitBTC has been around a few years and has never actually scammed anyone. Its pathetic people blame an exchange for their own stupidity.
---
Proff

-

May 19, 2019

I can not agree with you... It is not the best exchange, but not scam also. I communicated with their support team 2 or 3 times and it was OKAY, they usually answer all of the questions.
---
Zack

-

May 19, 2019

This HitBTC platform got appropriate fees and provides good services to its users. I'd advice HitBTC to the most skillful traders as it has too many extra functions.
---
Helen

-

May 19, 2019

Speaking of tokens, hitBTC adds new tokens very often. So if you know how to deal with this, you'll be in a great gainings soon. I'd like to become as skillful as my bro but he doesn't want to share his secrets.
Submit a Review