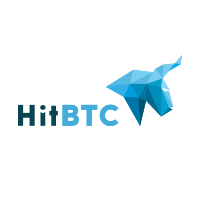 Description
Update
HitBTC is a global trading platform with multi-currency support operating since 2013. Besides trading cryptocurrencies, tokens and ICOs, HitBTC provides proper markets for fiat trading, including USD and EUR trading pairs. HitBTC is a place where both newcomers and trading professionals will be able to trade with ease. It was built on top of modern technologies to provide fast, secure and reliable service. Customers will appreciate fast order execution, convenient ways to add deposit and withdraw and competitive client service. Newcomers will like intuitive user-friendly interface and easy-to-start platform. The key focus is client funds safety. Daily backups of everything, distributed all over the world servers, 2-step authentication based on your mobile device and much more for your security. For professional traders there are quite a number of features: - High liquidity - Core matching engine - No limits for funding/withdrawal of cryptocurrency - Low fees - High-speed software - Large selection of tools - High level of security - The most professional API (4 advanced types of protocols)
Reviews
Luke

-

June 22, 2018

A very ordinary exchange. Nth so special about it.
---
Theodor

-

June 22, 2018

I've been spending a lot of time for trading but then realised that... it was not the thing I really wanted. Money is not the most important thing for me anymore. Yet, I do miss HitBTC sometimes.
---
Al

-

June 22, 2018

They have many different abilities. However, I do not have enough time to discover them all...
---
Eric

-

June 21, 2018

HITBTC IS NOT SCAM!!! But there were some issues in December... In December I wanted to withdraw my LTC savings but everything went wrong from the very start. Simple transaction got stuck for a few days. Of course, I contacted the support and let them know the situation. They apologized but were not able to help at once. I had to wait for more than 5 days. But finally support worked well and they managed to complete the transaction. Later I found out that the reason was nothing but a rise of BTC. And too much users buying it.
---
Wilson

-

June 21, 2018

When I started trading there, I've made put limit orders… It really worked. I've managed to gain good profits there. Recently I decided to close my other exchanges' accounts and move all the money to HitBTC. What do you think??? Am I doing right???
---
George

-

June 21, 2018

I want to mention the hitbtc chart interval. It is as short as 1 minute. I think it's the most suitable variant. Min trading amounts and decimal place limitations did not disappoint me either. I think it was a good idea to move to hitbtc exchange.
---
Lenny

-

June 21, 2018

I find the traders' chats very helpful and that's good that hitbtc has its own chat on their website...
---
Lois

-

June 21, 2018

HitBTC exchange has a number of modern advances. It also provides a lot of coins and tokens to its traders. Many users admit that HitBTC is quite convenient in use. I do think so.. I've heard that good traders have to use more than one exchange but I do not want to. So far HitBTC is enough to me.
---
Don

-

June 21, 2018

Beware this exchange will not support you if you get hacked. I was hacked 6/19/2018 to the tune of $1463.0 I provided the IP addresses of the hackers. There was no transaction hash in the record. Hitbtc will provide a canned BS response. I believe it was an inside hack by Hitbtc. Suggest you use another exchange!
---
Michael

-

June 19, 2018

So many hitbtc fans here!!!! Stop talking, let's go trading!!!!!
---
Roberto

-

June 19, 2018

Well, i used to trade on many exchanges... Now I use this one most of the time, there are many reasons but the main is that hitbtc has low fees.
---
Lenny

-

June 19, 2018

Don't believe those who say it's a bad exchange... It's a good one, 5 starts at least!!!
---
Happy trader

-

June 19, 2018

HitBTC helped me to raise enough money and even put this money on the credit card. This situation made me to start using this exchange more often. And that's why I don't apply much attention to other users trolling hitbtc.
---
Leon

-

June 19, 2018

Don't know why others call withdrawals from Hitbtc fast. Just an ordinary speed. The same for other transactions. Yet, this exchange has a lot of different currencies which go with EUR. And it's just what I need.
---
Denny

-

June 19, 2018

Hitbtc is one of the biggest european exchanges, so my choice was obvious. It was my first cryptocurrency exchange and the experience from trading was great too. Highly recommended for beginners: easy interface and welcoming support.
---
David

-

June 19, 2018

This exchange never let me down. And it's the main achievement ever. I used to trade on many other platforms, but got robbed or hacked. But i never was robbed on HITbtc!!
---
Amy

-

June 19, 2018

I really appreciate HitBTC for being a "sociable" one. They really appreciate the community, very polite people.
---
Wayne

-

June 19, 2018

HitBtc is not scam at all!!! This exchange is doing well despite some negative points of view. Well, I used to have small problems there . All I had to do was contact the support. The support answered me in half an hour replying that my problem had already been solved. That situation took place on mid-January, if anyone cares. And it really was solved. So HitBtc is a reliable exchange. At least they have support team which is good.
---
Junior

-

June 19, 2018

Whay it is rated only 2.15 here?? It is strange, Hitbtc is 4/5 at least.
---
Wade

-

June 19, 2018

Recently I bought some LTC and they showed up immediately. Later I decided to resend LTC to my wallet, the transaction was completed very fast... So I don't know what's wrong. Everything seems to be okay.
Submit a Review