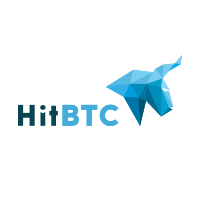 Description
Update
HitBTC is a global trading platform with multi-currency support operating since 2013. Besides trading cryptocurrencies, tokens and ICOs, HitBTC provides proper markets for fiat trading, including USD and EUR trading pairs. HitBTC is a place where both newcomers and trading professionals will be able to trade with ease. It was built on top of modern technologies to provide fast, secure and reliable service. Customers will appreciate fast order execution, convenient ways to add deposit and withdraw and competitive client service. Newcomers will like intuitive user-friendly interface and easy-to-start platform. The key focus is client funds safety. Daily backups of everything, distributed all over the world servers, 2-step authentication based on your mobile device and much more for your security. For professional traders there are quite a number of features: - High liquidity - Core matching engine - No limits for funding/withdrawal of cryptocurrency - Low fees - High-speed software - Large selection of tools - High level of security - The most professional API (4 advanced types of protocols)
Reviews
Ahmet

-

November 19, 2018

Wow, lot of fake reviews by HitBTC, I was about to believe they are not scam. lol
---
Khalifa

-

November 19, 2018

Reported, thanks
---
Armin

-

November 19, 2018

Alternatively you may contact: Hong Kong Police Mr CHU of Crime Investigation Team 6 Tsuen Wan Police Station DPC 58396 Mr CHU DIT 6 TWDIST email: twdist-dit-6-office@police.gov.hk Tel: +852 3661 2418 Fax: +852 2405 5407
---
Armin

-

November 19, 2018

Those who had their money stolen/blocked by Hitbtc, make sure that you file claim to Hong Kong cyber crime police, the process is straight forward, google CSTCB and fill the form, indicate the stolen amount and make sure to write company name "Hit Solution Limited, CR No.: 2510720. Registered / Principal Office: Unit 19, 7/F., One Midtown No.11 Hoi Shing Road, Tsuen Wan, New Territories, Hong Kong" this is being taken seriously by the authorities where the company is registered; Feed back from traders is extremely positive, it is important to file a complaint to reserve your right to claim refund and compensation before the police shut them down.
---
bittrust.org

-

November 19, 2018

IMPORTANT NOTICE! There have been a growing number of complaints by users of accounts being frozen and withdrawals being prevented. You can read some of these on the r/HitBTC subreddit. As you can see, there have been a large amount of negative comments left on this post which have been countered by a number of users, these all from the same IP address which leads us to believe these are an organized attempt from people at HitBTC to counter the negative sentiment online about the company. We would not recommend our users to trade on HitBTC at this time until things become more clear.
---
Kamran

-

November 19, 2018

This is one guy and his job is to write fake reviews to trap newbies
---
Xenon

-

November 19, 2018

More fake reviews by Hitbtc
---
Ramesh

-

November 19, 2018

Spamming is what they are good at, well known scam and fraud exchange
---
Johnson

-

November 19, 2018

Stop fudding, hitbtc is scam exchange.
---
Flen

-

November 19, 2018

Totally satisfied with this exchanges. After a month of using this exchange, I can say that I expected it to be much worse. Sometimes the withdrawal fees are a bit higher than I expected, but a huge number of currencies recoups it. And the functions are alike those in other top-exchanges. In general, I will not say that everything there is perfect. Yet, I recommend hitbtc.
---
Father

-

November 19, 2018

Large liquidity on this exchange is nothing compared to the low fees, which HitBTC provides. As a trader, I can honestly say that this is an ideal place for trading!
---
Fear

-

November 19, 2018

I'm here just to say that Hit never let me down.
---
Romeo

-

November 19, 2018

Why do some people have problems with Hitbtc? In my opinion, they just refuse to follow some simple instructions, but instead of blaming themselves, they blame...guess who? Support.
---
btc

-

November 19, 2018

They list a lot of tokens and what's more, they list new tokens ASAP. It helps me to by coins cheaper. As far as I know, later some people sell those coins at a bigger prices. But I do not. I like rare cryptos.
---
Hunter

-

November 19, 2018

I've heard that HitBTC has never been hacked. And it does mean quite a lot to me. It shows the high level of security and makes me believe that my money are safe.
---
Garry

-

November 19, 2018

Hitbtc is not a scam! This is my first review where I want to say that hitbtc is a nice trading platform and you even store money there.
---
Martin

-

November 19, 2018

HitBTC hosts more than 600 currency pairs. I managed to find here all the most rare coins.
---
John

-

November 19, 2018

You know, the variety of cryptos and ability to store them for free is exactly what I was looking for since entering the cryptocurrency world.
---
Pol

-

November 19, 2018

Don't care whether platform is centralised or decentralised: the result is the only thing that matters to me. And HitBTC exchange gave me the best result of all others.
---
Markus

-

November 19, 2018

Not the first month I work with the exchange, there were delays in payments, but this issue was decided in a couple of days and everyone paid. But my friend did not receive the confirmation letter of the mail and we still can not get through to technical support
Submit a Review