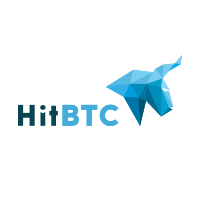 Description
Update
HitBTC is a global trading platform with multi-currency support operating since 2013. Besides trading cryptocurrencies, tokens and ICOs, HitBTC provides proper markets for fiat trading, including USD and EUR trading pairs. HitBTC is a place where both newcomers and trading professionals will be able to trade with ease. It was built on top of modern technologies to provide fast, secure and reliable service. Customers will appreciate fast order execution, convenient ways to add deposit and withdraw and competitive client service. Newcomers will like intuitive user-friendly interface and easy-to-start platform. The key focus is client funds safety. Daily backups of everything, distributed all over the world servers, 2-step authentication based on your mobile device and much more for your security. For professional traders there are quite a number of features: - High liquidity - Core matching engine - No limits for funding/withdrawal of cryptocurrency - Low fees - High-speed software - Large selection of tools - High level of security - The most professional API (4 advanced types of protocols)
Reviews
Scam website

-

February 17, 2018

Scam website
---
JJ

-

February 17, 2018

AOVID, my fund has been stuck for a long time, ARDR and IGNIS withdrawals are temporarily unavailable for long time, and no response from the support
---
Big Jack

-

February 13, 2018

I have certainly heard from others that this is a scam exchange. And I've had my own scares as I wasn't able to withdraw my DENT from my Main Account back in December. BUT, I've figured out the system that they use. So when your coins are at an all time high in USD value, HitBTC will not allow withdrawals of that coin. I would recommend that you use a cold wallet and keep your currencies in there. Like I said, I don't believe this exchange is a scam and I have been using it for over a year now. You should be using a cold wallet anyway, as your holdings are not safe being left on any exchange. And yes, it takes a few days to receive deposits and withdrawals, don't panic. As I've experienced, you will eventually get your deposits and withdrawals after a couple days.
---
Bernardo

-

February 13, 2018

Do not send your token to HitBTC They change police for deposit whenever they want. "The deposit fees will be deducted from the amount of the incoming transaction. The fee amount for every token is shown below the deposit address. Please be advised that if your deposit is lower or equals the fee, the whole amount will be used for the commission and will not be refunded." Respectfully, HitBTC
---
Tiger

-

February 12, 2018

2fa ... no support.... waiting 20 days
---
Losing Money

-

February 12, 2018

Bought a decent amount of AMB (Ambrosus), only to find out that I couldn't withdraw it. I should have done my research on HitBTC prior to jumping into AMB. The ICO had been over for some time, however it was still listed under the ICO tab. No problem I thought. Just wait a while, you will be able to withdraw later. No. They straight out delisted the coin with no forewarning. Now I can't trade, nor move my coins out of this horrid 'exchange'.
---
Bernd Meisburger

-

February 10, 2018

Bought FCN for 40 Euros. The withdraw is pending since more tha a week. From Supoort i get no Response. Be aware, hitBTC seems to be a scam page.
---
UV

-

February 9, 2018

-10 ,pathetic customer service and sluggish website having 2FA issues for the last 20 days and raised 3 tickets ,send countless emails to support , all useless .
---
kdctt

-

February 9, 2018

Its really scam. from Fees-and-limits, they said "There are no fees for deposits." but in deposit page, there is a small note: "Please note that a deposit fee of 0.0006 BTC is to be charged". I cannot believe WTF they are doing.
---
omfg

-

February 9, 2018

wtf I don't understand why no one is out to get them
---
rich farrell

-

February 9, 2018

They deserve a 0! Neo locked for over a month. No response after several support tickets . How are they still operating?
---
milan

-

February 7, 2018

Ticket ID #222887.I can't login on my account becouse 2FA issue and delteting 2FA took to much time,As I see months.
---
Musmus

-

February 7, 2018

This site is a complete scam, and they are no more than crooked criminals. They stole all of my IGNIS tokens (worth 2 BTC) at the famous airdrop scam!!! In addition, they take unpublished fees in every withdrawal (can easily be seen when comparing the fees reduced from a withdrawal transaction to the ones in the block explorer...), and make you get stuck with "dust" leftovers of every coin you ever held on their site (which cannot be withdrawn and stays theirs...). ***BEWARE OF HITBTC!***
---
Unhappy

-

February 5, 2018

Avoid at all costs. I have funds on there but can't transfer them to trading account nor withdraw them. No support.
---
Milan

-

February 4, 2018

Avoid this exchange.
---
Milan

-

February 4, 2018

Ok, usefull till you loose 2FA.Ok, they gave as backup key, but doesn't work at all,And problem begin.Support don't work well,It tooks a weeks, month and more to problem resolved.You have account,money frozen and there is nothing you can do.They send you answer, like, the problem will bo resolved in 48 hours and that is all.Add then silence , frustration.So avoid that exchange, No stars for them, but I must gave one, and I propose name 'SHITBTC'
---
TomGo

-

February 4, 2018

Terrible exchange. I transferred Starbase tokens to my account in HitBTC two weeks ago and until now am still wondering where it is...sad I did not listened to its many bad reviews... Bad exchange...it should be called as HATEBTC.
---
Ed

-

February 4, 2018

F Them
---
bob

-

February 4, 2018

Sadly HitBTC is sometimes more like S**tBTC. They set up trades so that you can't buy an exact amount, but instead in multiples of 100 or 1000 for smaller coins. Some wallets will be down for technical reasons for weeks or even months, while still allowing you to transfer those coins there. I'll give them 2 stars for trying, but the experience there is the worst I've had of any exchanges, and that is saying something.
---
Raymond Carroll

-

February 4, 2018

HitBTC doesn't deserve 1 star. This exchange will take your money. You can transfer $200 in Bitcoin, but when you want to trade it for another coin like like Steem, I could only purchase $130 of Steem. They kept telling me "insufficient funds" so I kept lowering my amount. Where did $80 go? And don't think for a minute your going to get any support. And don't think your going to be able to withdraw it out to say binance because you hate them. They will tell you for what is now 2 weeks that "technical maintenance" is preventing any activity. I regret the very minute I opened an account with these crooks.
Submit a Review