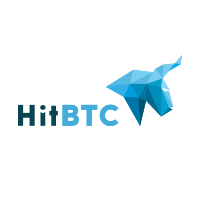 Description
Update
HitBTC is a global trading platform with multi-currency support operating since 2013. Besides trading cryptocurrencies, tokens and ICOs, HitBTC provides proper markets for fiat trading, including USD and EUR trading pairs. HitBTC is a place where both newcomers and trading professionals will be able to trade with ease. It was built on top of modern technologies to provide fast, secure and reliable service. Customers will appreciate fast order execution, convenient ways to add deposit and withdraw and competitive client service. Newcomers will like intuitive user-friendly interface and easy-to-start platform. The key focus is client funds safety. Daily backups of everything, distributed all over the world servers, 2-step authentication based on your mobile device and much more for your security. For professional traders there are quite a number of features: - High liquidity - Core matching engine - No limits for funding/withdrawal of cryptocurrency - Low fees - High-speed software - Large selection of tools - High level of security - The most professional API (4 advanced types of protocols)
Reviews
Stay away.

-

April 22, 2018

tl;dr: Stay away, unless you're fine with excessive withdrawal fees. I typically trade on Bittrex, GDAX, and Binance. However, to try a swing on a coin that wasn't available on those three, I joined HitBTC. Everything went fine during sign up and transferring ETH to the exchange. I then got acquainted with the okay trading UI. My TA paid off, the coin did well, I locked in profits and exited my position, bit by bit. Today, I went to withdraw the ETH I had accumulated and, to my horror, found that I'd be charged a flat fee to withdraw it. So that you may make your own financial decision and, for the record, here are the withdrawal fees for popular coins (and their current market rates in USD) from HitBTC, as of today, 4/21/18: BTC: 0.001 BTC ($8.84) ETH: 0.00958 ETH ($5.72) ETC: 0.002 ETC ($0.036) USDT: 100 USDT STRAT: 0.01 STRAT ($0.0565) LTC: 0.003 LTC ($0.4367) DASH: 0.03 DASH ($13.24) XMR: 0.09 XMR ($22.62) BCN: 0.1 BCN ($0.0004799) STEEM: 0.01 STEEM ($0.0317)
---
Wes

-

April 22, 2018

Avoid
---
herudo

-

April 21, 2018

Account blocked with no explanation... I hadn't used my account for a while, and I had a bit of dust in one coin, wanted to check. I'm greeted with account blocked sign, which gave me a single chance to contact the support, so I asked them to unblock. Haven't got any response and it's been for days. Yes, it's just dust in there. But it may not be dust after a few year, if that coin takes off, don't you think? This is very scammy on their part. Stay away.
---
fernando

-

April 20, 2018

Those mofos charged me 3.7 for a 8.47 EOS withdrawal. SCAM SCAM SCAM SCAM SCAM THAT'S WHAT HITBTC IS. GOLPE GOLPE GOLPE, FIQUEM LONGE DESSA MERDA
---
Yannick

-

April 20, 2018

Not satisfied at all. I heard good things about it initially and sent 2 ETH to the exchange. But apparently, due to it being sent from contract (which is not supported on HITBTC but not mentionned when generating an address at all - absolutely no warning about that) the coins never arrived. I created a support ticket a month ago and received a quick response asking me to provide the hash. They confirmed it and stated it would be credited manually to my account. This all happened about a month ago - up untill now absolutely NOTHING happened and their support no longer replies to my mails. If that is the kind of service provided i can not recommend it to anyone!!!
---
berry

-

April 20, 2018

getting the private key was one of greatest joy this month . i actually thought it was all a joke but now i can mine at least 0.4 bit coins a day . now all my debts are settled and all i did was send them a message on whatsapp . just the shit is real lets all try to gain from thes before its too late . send them a messsage today via whatsapp. +1 (267) 727-6124.
---
Avoid avoid avoid!

-

April 20, 2018

Most of ppl talk about hitbtc is a good exchange and low fee bla bla.. I think they are their staffs or fake accounts. Same 500Plus exchange! Hitbtc will take all your money, stay away from them!
---
They are SCAM!

-

April 20, 2018

To be honest, they are SCAM, stay away from them guys if you don't want lost your money in their stupid systems. No response after asked, luckily i just tried send a small amount USDT to see how it go and easy trading or not. Absolutely my money appear in fund and i can't do anything with that. I know they will ask me a lot of private information but idk when and also i don't want it. And i 100% sure it would be hard to withdraw.
---
bigman

-

April 18, 2018

The fact that someone think that smth didn't work or someone didn't like something -doesn't mean that it is a scam. Everything works fine, do not mislead others.
---
M. A.

-

April 18, 2018

HitBtc is SHIT absolute SHIT. is a SCAM!! Please Beware! !I have lost thousands and cannot even withdraw the last few LTC coins. the customer service is non-existence since the answers to your complaints make no sense. Please warn others. I am going to spread the words. If you need any proof I am willing to forward you as many as you like
---
wiki

-

April 17, 2018

I though I was sending ETH to my HitBTC ETH wallet but instead, I sent it to my HitBTC DENT wallet. My bad!!! I opened a service ticket and they got my ETH back to me safe and sound. Thanks HitBTC Support Team.
---
T.C.

-

April 16, 2018

MY IGNIS NEVER ARRIVE ON MY WALLET. THEFT!
---
Luce

-

April 16, 2018

Quality exchange, but sometimes (rarely) buggy a little bit
---
peter

-

April 14, 2018

Scam from high fees to deposit up to 50% for withdraw but i doubt you get chance to actually get any money back , they usually will steal them from your account or your coins gonna get delisted without warning without even slightest info about why would the ...You gonna have to ask them why and they will say ahh well we sorry we just delisted it no reason whatsoever .....STAY AWAY READ OTHER COMMENTS i was like maybe they not real BUT TRUST ME THEY ARE ... ALSO COMPANY DOESN'T EVEN EXIST LEGALLY SPEAKING THEY WERE LTD BUT SINCE 2014 they don't even have adress so you can't sue them just bunch of scammers working hard on robbing ppl ! You have more chance to make profit by sending money to African prince !
---
mixer

-

April 14, 2018

I read that many people have problems with hitbtc, but I didn't have them, although I have been using it for 2 years already. In your case it seems like true. But I think there are many bots who deliberately writes lies about this exchange.
---
andy

-

April 14, 2018

Scammers thiefs , don't put your money on this platform you have more chance getting m,illions from niggerian prince than seeing a penny back from this robbing scumbags ! Also they will block you if you ask for you shit , thats how they roll i got ban on troll box for asking where the fuck my coins at ?
---
Rolland

-

April 12, 2018

A good crypto exchange with its shortcomings (like other exchanges).
---
Marcin

-

April 11, 2018

Hackers Scam wtf you ar
---
HIT

-

April 10, 2018

i believe I'll be supported by many traders, Hitbtc is the excellent place where you can trade. Low fees and good liquidity would be a pleasant thing for you. Along with that, you wont have to wait for long when your profit is withdrawn, I proved that by my own experience.
---
samlonberg

-

April 9, 2018

A week ago I incorrectly sent my coins. I was given an error, the money was gone, but my coins never appeared! I wrote in support. In a day they answered me. And the next day the problem was solved. Thank you very much for such quick resolution of the problem. (especially since I read that it often happens that it takes a long time to wait)
Submit a Review