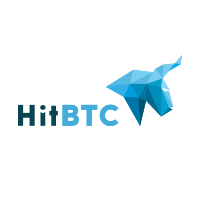 Description
Update
HitBTC is a global trading platform with multi-currency support operating since 2013. Besides trading cryptocurrencies, tokens and ICOs, HitBTC provides proper markets for fiat trading, including USD and EUR trading pairs. HitBTC is a place where both newcomers and trading professionals will be able to trade with ease. It was built on top of modern technologies to provide fast, secure and reliable service. Customers will appreciate fast order execution, convenient ways to add deposit and withdraw and competitive client service. Newcomers will like intuitive user-friendly interface and easy-to-start platform. The key focus is client funds safety. Daily backups of everything, distributed all over the world servers, 2-step authentication based on your mobile device and much more for your security. For professional traders there are quite a number of features: - High liquidity - Core matching engine - No limits for funding/withdrawal of cryptocurrency - Low fees - High-speed software - Large selection of tools - High level of security - The most professional API (4 advanced types of protocols)
Reviews
trader

-

July 16, 2019

guys, site bad exchange
---
Rocket

-

July 16, 2019

I don't trade cryptocurrency, I use Hitbtc only because of some ICO tokens.
---
Tyler

-

July 16, 2019

Don't believe bad reviews, it's not a scam, not at all. I've been trading on Hitbtc for more than a year. No lags, transaction speed is great. With intraday trading, every minute is important. The market is absolutely unpredictable and if an exchange slows down the whole process, then you can lose your money because of it. There is no such thing here. In general, the exchange is checked by time. 5/5.
---
Dan

-

July 16, 2019

I started trading crypto currency in the winter of 2018. I chose this exchange by accident. After half a year I still trade here because it suits me. Although it would be better if support answered my questions faster.
---
Alex

-

July 16, 2019

You can see the difference when you move from another exchange… Some exchanges are 'good' and some are absolutely horrible. I'd say this one is mostly good, especially when it comes to the fees and its support.
---
Warlock

-

July 15, 2019

Recently, a lot of complaints about the crypto exchanges, after reading a lot of reviews I decided to go to this exchange hitbtc, I like it.
---
Venom

-

July 15, 2019

On hitbtc you can find almost any coin you need. And if you can't find what you need, you can request for this crypto. Never seen so many coins...
---
Black

-

July 15, 2019

The exchange is quite good. Already 4 months here, the price of bitcoin is very profitable.
---
trader

-

July 15, 2019

The exchange shows a positive picture, has a high reputation. Such important indicators show reliability.
---
Arcadia

-

July 15, 2019

Large liquidity on this exchange is nothing compared to the low fees, which HitBTC provides. As a trader, I can honestly say that this is an ideal place for trading!
---
Indigo

-

July 15, 2019

I'm here just to say that Hit never let me down.
---
Eva

-

July 15, 2019

They list a lot of tokens and what's more, they list new tokens ASAP. It helps me to by coins cheaper. As far as I know, later some people sell those coins at a bigger prices. But I do not. I like rare cryptos.
---
Leo

-

July 15, 2019

site bad exchanged exchange
---
Z3ro

-

July 15, 2019

Seems like these guys started working all over again. Received frozen funds. Suppose they had problems but now work fine.
---
Ogre

-

July 15, 2019

The usual exchange, not good and not bad. I like the support service and a good bitcoin course, mainly because of this and I'm on this exchange.
---
Predator

-

July 15, 2019

Normal exchange, why write that the platform is bad? I change twice a month without any significant problems and complaints. Sometimes there are difficulties with the time of the transaction, but these difficulties are rare.
---
Kof

-

July 15, 2019

I've been spending a lot of time for trading but then realised that... it was not the thing I really wanted. Money is not the most important thing for me anymore. Yet, I do miss HitBTC sometimes.
---
Western

-

July 15, 2019

Fees ale really low, actually. It must be one of the main Hitbtc advantages. Other exchanges take much more commissions.
---
Cole

-

July 15, 2019

HitBTC is the only one exchange with so many different coins. It's nice when you can trade all your rare coins at one platform.
---
Cole

-

July 15, 2019

Have been using hitbtc for almost a year. It's a great exchange, no doubt. Fast transactions, fast withdrawals. Once I've spent a few days waiting for hitbtc support to answer, though.
Submit a Review