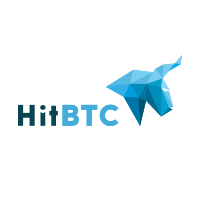 Description
Update
HitBTC is a global trading platform with multi-currency support operating since 2013. Besides trading cryptocurrencies, tokens and ICOs, HitBTC provides proper markets for fiat trading, including USD and EUR trading pairs. HitBTC is a place where both newcomers and trading professionals will be able to trade with ease. It was built on top of modern technologies to provide fast, secure and reliable service. Customers will appreciate fast order execution, convenient ways to add deposit and withdraw and competitive client service. Newcomers will like intuitive user-friendly interface and easy-to-start platform. The key focus is client funds safety. Daily backups of everything, distributed all over the world servers, 2-step authentication based on your mobile device and much more for your security. For professional traders there are quite a number of features: - High liquidity - Core matching engine - No limits for funding/withdrawal of cryptocurrency - Low fees - High-speed software - Large selection of tools - High level of security - The most professional API (4 advanced types of protocols)
Reviews
Armin

-

September 22, 2018

Alternatively you may contact: Hong Kong Police Mr CHU of Crime Investigation Team 6 Tsuen Wan Police Station DPC 58396 Mr CHU DIT 6 TWDIST email: twdist-dit-6-office@police.gov.hk Tel: +852 3661 2418 Fax: +852 2405 5407
---
Armin

-

September 22, 2018

Those who had their money stolen/blocked by Hitbtc, make sure that you file claim to Hong Kong cyber crime police, the process is straight forward, google CSTCB and fill the form, indicate the stolen amount and make sure to write company name "Hit Solution Limited, CR No.: 2510720. Registered / Principal Office: Unit 19, 7/F., One Midtown No.11 Hoi Shing Road, Tsuen Wan, New Territories, Hong Kong" this is being taken seriously by the authorities where the company is registered; Feed back from traders is extremely positive, it is important to file a complaint to reserve your right to claim refund and compensation before the police shut them down.
---
Anatazja

-

September 22, 2018

Thanks Armin, how to reach Hong Kong Police, do you have contacts?
---
Armin

-

September 22, 2018

Hi Anatazja, I'm sorry to hear about the situation you are facing, and I feel your pain, there are thousands in the same situation, I hope yours is just a technical issue and will be resolved in few days, probably you heard about traders funds getting frozen by Hitbtc and the excuses is kyc/aml and the way Hitbtc handle this is very specious as confirmed by lawyers, this happens without prior notice although as per the exchange policy it is not necessary to verify an account in order to deposit, trade and make withdrawals within the daily limit; my advise, take screen shot of your current balance, don't wait, file complaint to Hong Kong Cyber crime department, you'll be given reference no., let Hitbtc know that you filed formal complaint with the police and give them the reference number, use Hitbtc twitter and shout loud. this has proven to be effective. best of luck
---
Anatazja

-

September 22, 2018

I'm having withdrawal issue with my account in hitbtc since three days, transfers to main account is disabled, no coins in main account so I can test withdrawal, no reply from support, however, and after reading traders comments in reddit and other forums I'm afraid that I got scammed by Hitbtc.
---
Romero

-

September 22, 2018

There is no exchange have done like Hitbtc scam and fraud along the history of digital currencies, they are the worst.
---
Taghreed

-

September 22, 2018

kyc, technical problems, maintenance and all these reasons are used by Hitbtc to hold traders funds so that they can use trader money and make profit out of it, this is illegal practice and considered a fraud, by the way freezing traders funds is not the worst part, to release money they force traders to submit very sensitive personal details beyond ordinary, there is good article about that written by reputed law firm and it is called identity theft which is a direct violation and a cyber crime by itself.
---
Soma

-

September 22, 2018

Hitbtc target accounts with good balances, they detect large withdrawal and cancel them automatically and all transfers will be suspended on this account, even from main to trading account, this will keep your coins in their main pool and they will use it for their wash trade, making support ticket doesn't guarantee releasing funds and they will give million reason to keep delaying until you shout loud in the social media, off course this is scam and fraud which Hitbtc doesn't deny it but they call it KYC/AML endless process.
---
Naj

-

September 21, 2018

Hitbtc is a scam Russian site, lets you deposit easily but won't let you withdraw. It's the least safe exchanges out there.
---
Afnan

-

September 21, 2018

Hitbtc support is the worst in any crypto exchanges so I suggest that you move the funds once you have a chance and leave hope they won't block you.
---
Sunny

-

September 21, 2018

I don't use hitbtc because of many bad reviews, comments and experiences with that exchange so I don't even have the guts to try it out.
---
Arif

-

September 21, 2018

Avoid this scam exchange
---
Rub

-

September 21, 2018

I checked HitBTC on reddit, flood of complains
---
Jasmin

-

September 21, 2018

Traders funds aren't safe, exchange services are not reliable, support level is extremely bad, and every year they jump to another location, be smart.
---
Kegham

-

September 21, 2018

good idea to spread the word all over the social media this hurt them a lot
---
Gholam

-

September 21, 2018

KYC to steal money and Identity, very bad exchane
---
Edward

-

September 21, 2018

My account is fully verified but I have been scammed by Hitbtc, KYC is another way to steal money silently.
---
Sergio

-

September 21, 2018

I'm sorry for your loss Edward, did they asked you to pass KYC?
---
Edward

-

September 21, 2018

Hitbtc locked my trading account for no reason as a result I was unable to hedge my portfolio while the market is in free fall and now I'm suffering more than 60% losses, this is the true face of HitBTC, don't be stupid and learn it in the hard way!
---
Hitbtc

-

September 21, 2018

We are the most advance criminal organization since 2013, we use all types of theft techniques including but not limited to scam coins listing, traders accounts freezing, hacking, robbery, phishing, pretexting, information retrieval, shoulder surfing, fraud, identity theft, money laundering and more; We are specialized in market manipulation, pump and dump, and we offer special rates and services to our colleagues in criminality.
Submit a Review