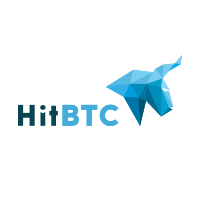 Description
Update
HitBTC is a global trading platform with multi-currency support operating since 2013. Besides trading cryptocurrencies, tokens and ICOs, HitBTC provides proper markets for fiat trading, including USD and EUR trading pairs. HitBTC is a place where both newcomers and trading professionals will be able to trade with ease. It was built on top of modern technologies to provide fast, secure and reliable service. Customers will appreciate fast order execution, convenient ways to add deposit and withdraw and competitive client service. Newcomers will like intuitive user-friendly interface and easy-to-start platform. The key focus is client funds safety. Daily backups of everything, distributed all over the world servers, 2-step authentication based on your mobile device and much more for your security. For professional traders there are quite a number of features: - High liquidity - Core matching engine - No limits for funding/withdrawal of cryptocurrency - Low fees - High-speed software - Large selection of tools - High level of security - The most professional API (4 advanced types of protocols)
Reviews
cara doug

-

April 17, 2021

How did you get the company you sent Bitcoin to?Because wallet addresses don't come with names. Even though not a 100% anonymous but you would definitely have a hard time finding the 'company''. And how did you conclude the recipient is a scammer? These and several other questions are running through my mind. I can see scam pages promoting scam firms too. Y'all need to careful out there. Reach out if you're ready to recover your lost funds, this might take a week but be rest assured you will be getting back your funds. Hit up Ryanpatric on telegram now
---
cara doug

-

April 16, 2021

How did you get the company you sent Bitcoin to?Because wallet addresses don't come with names. Even though not a 100% anonymous but you would definitely have a hard time finding the 'company''. And how did you conclude the recipient is a scammer? These and several other questions are running through my mind. I can see scam pages promoting scam firms too. Y'all need to careful out there. Reach out if you're ready to recover your lost funds, this might take a week but be rest assured you will be getting back your funds. Hit up Rtanpatric on telegram now
---
Nick

-

April 15, 2021

From my previous experience its not that easy to get back a scammed funds because these scammers are very smart and they will cover their tracks but if you manage to find a trustworthy and reliable Recovery company, I said trustworthy and reliable because many scammers are out there disguising as Recovery agents and will only take your money without recovering your money, I was a victim of such myself after loosing my all my funds to Beurax and HitBTC, I sort for help and I met few recovery agents and was scammed by a particular one again. Luckily for me I was referred to a company. You can send a mail to infoAT assetrecoverynow DTco they should be able to assist you. They saved my life, they can safe yours.
---
Victor Losas Jr

-

April 11, 2021

I have tried to activate my account since I don't have the recovery phrases needed. I do have my user ID and password however and have emailed Hitbtc 3 times and no response!
---
Ozan Yurt

-

March 15, 2021

Hitbtc is a scammer! This is a serious warning. they block your money. lawsuit is filed, results are expected. This firm is absolutely fraudulent. there are hundreds of complaints about them. Although I have sent my account information exactly 8 times. Today we applied to the international court with my lawyer. Please let victims who have the same problem contact me.
---
Corey

-

October 26, 2020

Stay away from this exchange unless you want to risk lose your money. All these overly positive testimonies are obv paid fake ones.
---
jonas

-

September 11, 2020

Diultimate is a platform with experience. After all, there is already such a time on the market, and I have been working with them for almost 2 years, during this time I have not encountered any serious problems, and most importantly, what interests many people is the withdrawal process and huge weekly profit . Whatsapp +1 (214) 269- 4381
---
Samson

-

July 23, 2020

This is wonderful platform is well secure.
---
Mason job

-

July 22, 2020

I have $250 at hand ,I would love to trade in your platform. If you can help ,because I don't know how to trade.
---
Saa Daniel

-

July 20, 2020

Hi! I am Saa ,upon research I had come across your platform ,richly laid out with all possible options that I do believe is a good platform for me to start trading on as a beginner. However, before registering, I would like to know whether a Liberian national residing in Ghana can trade on your platform? Thanks Reply
---
Coinguy

-

June 5, 2020

I deposited money into this exchange for a specific coin that I wanted that they had. It was stupid of me. I didn't read all the scam messages and all the information of people getting scammed. Now I can't get my money out. Live and learn but don't make the same mistake that I did. Avoid at all cost
---
Vargees

-

April 22, 2020

Wrong review by Lucas Barker. This lady with given number use religious words to get trust of investor the loot the from all over the world. I don't know who write good reviews about her every day, this is also doubted.After investing with her we have to deposit more and more but never get profit and invested money. It is my duty to tell all readers plz don't go for reviews about her who is mentioned by Lucas.Even then you want to loose your money go ahead and take a try with her having number +1 518 622 1571.
---
Tommy

-

February 23, 2020

The best exchange
---
Father

-

February 23, 2020

good service
---
King

-

February 20, 2020

t's a not very bad trading platform. From time to time I trade there
---
Roney

-

February 20, 2020

I registered on the exchange a long time ago. On the 29th of August I made a deposit of $ 1000, then I traded dollars for XRP. The withdrawal of funds is hanging ... A day later I wrote in support. Today the appeal was processed, the coins came to the specified address. Something like this.
---
Runner

-

February 20, 2020

Wondeful support
---
Vector

-

February 19, 2020

good service
---
Warrior

-

February 19, 2020

Best exchange
---
admin

-

February 19, 2020

good service
Submit a Review