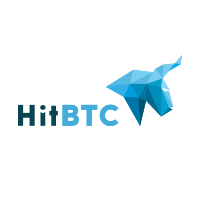 Description
Update
HitBTC is a global trading platform with multi-currency support operating since 2013. Besides trading cryptocurrencies, tokens and ICOs, HitBTC provides proper markets for fiat trading, including USD and EUR trading pairs. HitBTC is a place where both newcomers and trading professionals will be able to trade with ease. It was built on top of modern technologies to provide fast, secure and reliable service. Customers will appreciate fast order execution, convenient ways to add deposit and withdraw and competitive client service. Newcomers will like intuitive user-friendly interface and easy-to-start platform. The key focus is client funds safety. Daily backups of everything, distributed all over the world servers, 2-step authentication based on your mobile device and much more for your security. For professional traders there are quite a number of features: - High liquidity - Core matching engine - No limits for funding/withdrawal of cryptocurrency - Low fees - High-speed software - Large selection of tools - High level of security - The most professional API (4 advanced types of protocols)
Reviews
Brandon

-

March 25, 2019

i don't know! I've heard that hitbtc has a good security and their devs always work on improving it. That's what people say.
---
Richard

-

March 25, 2019

Hi I am Richard. Owner of one of the bitcoin largest mining farms in Austria. I have been mining locally for over 5 years now but I have decided to bring my services to the entire public now. We already have over 1000 members renting mining spaces with us and earning at least $400 daily for the farm. You want to be part of us? We will be giving extra bonuses to the next set of 500 members.
---
Jerry

-

March 25, 2019

Guys reaching out to Richard. I mean the post below. He is of great help if you looking to invest in bitcoin with great returns weekly.
---
Tom

-

March 25, 2019

Great number of currencies; probably the biggest of all exchanges that now exist. This is a big plus as I don't need to use many different exchanges to buy all the coins that I need, I can use this one.
---
Scorpion

-

March 25, 2019

I can not agree with you... It is not the best exchange, but not scam also. I communicated with their support team 2 or 3 times and it was OKAY, they usually answer all of the questions.
---
Tyler

-

March 25, 2019

Have been using hitbtc for almost a year. It's a great exchange, no doubt. Fast transactions, fast withdrawals. Once I've spent a few days waiting for hitbtc support to answer, though.
---
Prizm

-

March 25, 2019

I know that all my money are safe here. This exchange never stole from me, unlike some others... The transactions are very fast too. That's why I don't understand those posting 3-star reviews
---
Ricardo

-

March 25, 2019

I do not like this exchange due to the fact that very little trust in him.
---
Violence

-

March 25, 2019

I wonder where do the whales go? Been sitting in their Trollbox for some time now and all the people seem friendly, even tho the rules and mods are restricting shilling about coins, you are usually not being encouraged to buy something. They can even explain what to buy or not if you ask politely. Feels like the huge players keep silence these days.
---
Seen

-

March 25, 2019

Even if it is not convenient for beginners as the exchange interface is designed for experienced traders, they offered a demo version of its trading platform, which really helped you get comfortable before you start earning your own money. Wish that function back.
---
Daniel

-

March 25, 2019

I had problems with withdrawal 3 times in almost a year of using the exchange. Also, once there were delays with the eth incoming transaction, but it was during a network overload due to the game with kittens, so I don't pay attention to this :) I wrote to the support team twice, at the first time they answered for a long, about a week, during this time the transaction was successfully withdrawn. The second time answered almost immediately,and rolled back the transaction. I'm happy with the hit btc, and will continue to use.
---
Qwerty

-

March 25, 2019

The registration process there is quite simple, and the account verification email takes in a few seconds. You can even top up your balance with fiat once you passed the additional verification in order to upgrade your account to Verified status.
---
Johnyy

-

March 25, 2019

Bought really instantly. I couldn't deal with my personal account for a long time. Tech support helped. The first transfer to another wallet took about five minutes. But they removed the сommission and I almost did not have enough. The next transaction was done in 15 minutes, but waited for more than a day. It is not received. I wrote to technical support, and all refunded to the account. Thanks for patience in working with such dummies like me. Suggest to beginners. Will teach, prompt on what button to press. I will definitely use it. Thank you very much!
---
Dark

-

March 25, 2019

Deposited my payment to the wrong address. Support helped me to sort this out quickly. Thanks, team!
---
Margo

-

March 25, 2019

I recommend this exchange to everyone. They provide a good service along with a great customer support.
---
Alma

-

March 25, 2019

In fact, not so many people face problems on this exchange. Those who face it, write negative comments with ratings 1 out of 5. The truth is, most of users do not have any problems.
---
Derel

-

March 25, 2019

You can see the difference when you move from another exchange… Some exchanges are 'good' and some are absolutely horrible. I'd say this one is mostly good, especially when it comes to the fees and its support.
---
Sam

-

March 25, 2019

I started trading crypto currency in the winter of 2017. I chose this exchange by accident. After half a year I still trade here because it suits me. Although it would be better if support answered my questions faster.
---
Cat

-

March 25, 2019

Don't believe bad reviews, it's not a scam, not at all. I've been trading on Hitbtc for more than a year. No lags, transaction speed is great. With intraday trading, every minute is important. The market is absolutely unpredictable and if an exchange slows down the whole process, then you can lose your money because of it. There is no such thing here. In general, the exchange is checked by time. 5/5.
---
Rick

-

March 25, 2019

I don't trade cryptocurrency, I use Hitbtc only because of some ICO tokens.
Submit a Review